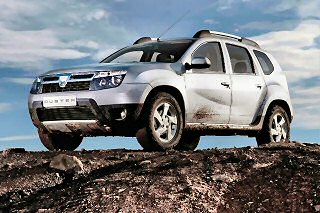 28 April 2010
Dacia launches its sixth model: Dacia Duster, a robust, spacious, easy-to-use and affordable off-roader.
Dacia Duster is particularly economical:

To buy: Dacia Duster offers an unbeatable performance, equipment and interior space package for its price. Although Dacia Duster's price is that of a supermini, its exterior and interior dimensions are those of cars in the next segment up.
To run: the Dacia Duster range features a choice of frugal engines which offer low fuel consumption (the diesel dCi 85 4x2 version offers combined cycle fuel consumption of just 55.4mpg) with low maintenance costs.

Dacia Duster is more respectful of the environment thanks to its low CO2 emissions. The diesel versions of Dacia Duster emit from 135g of CO2/km in two-wheel drive form (making them eligible for the Dacia eco² signature) and 145g of CO2/km for the 4x4 version.
Dacia Duster, in its 4x4 version, is aimed at motorists seeking an everyday car with genuine off-road ability.The 4x2 version has been designed for customers who want good ground clearance and a reassuring elevated driving position, as well as loose-surface ability.
Dacia Duster is manufactured at the Pitesti factory in Romania. The 4x2 and 4x4 versions have been rolled out progressively since April 2010 in Europe, Turkey, Africa and the Middle East.
Duster is a vehicle with global ambitions, both in terms of its markets and its production. It is launched in different world markets, badged either as a Renault or a Dacia, in the same way as Logan and Sandero.
With Duster, Dacia demonstrates that it is possible to produce an all-terrain vehicle that is not only functional and affordable, but also more respectful of the environment. With Duster, the Dacia brand – which pioneered a fresh approach to motoring with the launch of Logan in 2004 – has once again demonstrated its ability to think outside the box.
DACIA DUSTER, A TRUE 4x4
Assertive all-wheel drive styling…
Today's all-terrain vehicles are often synonymous with bulk, but Dacia Duster is the antidote. With a length of 4.31 metres and a width of 1.82 metres, Dacia Duster is very compact. Its Mégane-sized proportions ensure that it is as at home in built-up areas as it is off the beaten track. While it clearly belongs to the world of all-terrain vehicles, Dacia Duster's lines are not ostentatious.
Dacia Duster is unmistakably a 4x4. From the front, it exudes an impression of toughness: the wide wheel arches, the imposing lines of the chrome grille and lower bumper protection clearly emphasise the 4x4 DNA of Dacia Duster. Seen from the side, the high ground clearance, clearly defined wheel arches and protective mouldings encourage the driver to tackle even the toughest roads and tracks.
With the Look Pack, Dacia Duster owners can further enhance the vehicle's style. This pack includes 16-inch aluminium alloy wheels, roof bars, extra-tinted rear windows, and satin-finish chrome exterior mirrors, front and rear skid plates, and sills. A comprehensive range of accessories (including extended wheel arches, broad side protectors for doors, sill protection bars…) will complete this unique look.
Inside, the elevated driving position provides a better view of potential hazards. The interior echoes the core values of the Dacia brand: the dashboard is modern, uncluttered and functional. Its design varies according to version, and several areas can be modified with different colours or surface finishes. Dacia Duster introduces a new brown trim, while a Leather Pack (seats, steering wheel, gear lever knob) is also available. Particular attention has been paid to ergonomics to ensure that the controls are conveniently positioned and that driving data is easy to read: the well-placed, intuitive 4x4 control button is a perfect example of this.
… with genuine go-anywhere ability
Dacia Duster was designed to cope with all types of road and track, worldwide. To order to meet these wide-ranging needs, Dacia Duster will be available in both 4x4 and 4x2 form. The 4x2 version has been designed for customers who want good ground clearance and a reassuring elevated driving position, as well as loose-surface ability, but who don't have a real need for all-wheel drive.
The strengthened underside of Dacia Duster is suitable for loose-surfaces and all-terrain use thanks to:
ground clearance raised to 210mm
short overhangs (822mm at the front, 820mm at the rear)
large ramp angles (30 degrees for approach angle; 23 degrees for ramp breakover angle 36 degrees for departure angle).
Dacia Duster is a vehicle that is easy to use. It is lightweight for its size: 1,160kg for the 4x2 version and 1,250kg for the 4x4 version1. Combined with compact dimensions, this ensures Dacia Duster is particularly agile.
Dacia Duster is built on the B0/Logan platform which is widely acclaimed for its strength, reliability and durability.
At the front, the pseudo MacPherson-type suspension with wishbones is identical to the layout employed by Logan and Sandero, although strengthened for off-road use.
At the rear, the 4x4 version's rear multi-arm arrangement was specifically developed for Dacia Duster, while the programmed-deflection flexible H-beam favoured for the 4x2 versions is strong and permits a large boot, which is a key consideration for Dacia customers.
Both solutions deliver a comfortable ride and allow high ground clearance. To confirm Dacia Duster's strength and reliability, Dacia Duster covered the equivalent of four million kilometres in a wide range of climates and in particularly punishing conditions.
Dacia Duster 4x4 is equipped with a new six-speed gearbox with a short first ratio (3.6mph per 1,000 rpm) which allows the vehicle to travel at very slow speed on uneven terrain and improves performance as you pull away from standstill with heavy loads or on steep slopes. This simple, efficient and economical solution was favoured in order to meet customer needs.
The TL8 gearbox offers:
optimised output thanks to a single gearbox and module architecture which limits the number of gears engaged, and thanks to the use of a low-viscosity lubricant;
compactness: gearbox and gearshift module are positioned alongside each other to free up cabin space and maintain interior roominess.
controlled mass: on the TL8 gearbox, the short first gear, instead of a transfer box, optimises the number of gears engaged (and thus the mass) for a maximum performance level.
- a solution to keep the cost down : the TL8 gearbox is derived from the TL4 gearbox which is a high production volume unit within the Renault-Nissan Alliance. The TL8 gearbox is manufactured at the Pitesti plant in Romania.
The 4x4 control located on the lower part of the centre console allows drivers of Dacia Duster 4x4 to easily adapt the vehicle's configuration to their needs.
This control permits three modes:
In AUTO mode, the front/rear torque split is calculated automatically as a function of available grip. This mode has been developed to provide the best compromise between road holding and traction, no matter what the level of grip may be. In normal conditions, the torque is transmitted through the front wheels only. If traction is lost, or when grip is at a premium, some of the torque is transferred to the rear wheels. This split is performed by an electromagnetic torque converter supplied by Nissan.
In LOCK mode, the driver electronically locks the transmission in 4x4 mode. In this mode, throttle control and braking are also adapted for 4x4 use. This mode is recommended when grip is low (snow, mud, dirt, sand) and at low speed.
In 2WD mode, the transmission is locked into two-wheel drive. This mode is suited to driving on good roads and reduces fuel consumption and CO2emissions.
Unbeatable space for its price
Although Dacia Duster's price is that of a city car, its exterior and interior dimensions are those of compact cars in the next segment up.
Dacia Duster can comfortably seat up to five adults and offers both front and rear occupants the same amount of space as the Dacia Logan saloon.
Dacia Duster's boot capacity – up to 475 cubic metres VDA (depending on version) – is also very competitive given the vehicle's compact dimensions. With the rear bench seat folded, Dacia Duster offers an impressive carrying capacity of up to 1,636 cubic metres VDA (depending on version).
Reliable, economical, low-emission engines
Dacia Duster is available with a choice of three powerplants for both the 4x2 and 4x4 versions: one petrol engine (1.6 16V 105) and two diesel engines (dCi 85 and dCi 110). The strengths of these engines have already been demonstrated in many Renault group vehicles.
These engines are a perfect fit for the criteria of cost, reliability and easy maintenance that are hallmarks of the Dacia brand.
Dacia Duster dCi 85 (4x2 version) emits just 135g of CO2/km (equivalent to a combined cycle fuel consumption of 55.4mpg) which qualifies it for the Dacia eco² signature.
Dacia Duster dCi 110, in 4x2 version, emits just 139g of CO2/km (equivalent to a combined cycle fuel consumption of 53.3mpg) also qualifies for the Dacia eco² signature.
Under the bonnet of 4x4 versions of Dacia Duster, the dCi 110 engine stands out as a particularly environmentally-respectful and economical package for an off-road vehicle, with CO2 emissions of 145g/km and fuel consumption of 50.4mpg (combined cycle). The dCi 110 engine is Euro V-compliant and comes with a particulate filter.
The dCi 110 diesel engine delivers peak power of 80kW (109hp) at 4,000rpm and features second-generation common-rail direct fuel injection which only pressurises the exact amount of fuel actually required, the benefit to the owner being enhanced efficiency and consequently lower fuel consumption. The 4x2 version of Dacia Duster dCi 110 accelerates from standstill to 62mph in 11.8 seconds and boasts 240Nm of torque at 1,750rpm, 90 per cent of which is available from 1,500rpm.
Dacia Duster is also available with the 1.6 16V 110 petrol engine:
Dacia Duster 1.6 16V 105 delivers a maximum power output of 77kW (105hp) at 5,750rpm, while peak torque stands at 148Nm (at 3,750rpm). The combined cycle fuel consumption of the 4x2 version of Dacia Duster 1.6 16V 105 is 37.7mpg. The same figure for the 4x4 version of Dacia Duster with the 1.6 16V 105 engine (Euro V-compliant) is 35.3mpg.
Economical to buy and run
Servicing and maintenance costs are particularly competitive on Dacia Duster thanks to extended service intervals for oil changes, brake pad and tyre replacements. The useful life of the air filters has increased to 90,000km/four years for petrol versions, while that for diesel it has increased to 60,000km.
The servicing intervals of the dCi 110 diesel engine are every 30,000km/two years OCS in the majority of its commercialisation countries. The OCS (Oil Control System), newly introduced in the Dacia range, warns the driver by means of an oil-change warning light, should the next service need to be brought forward, depending on the way the vehicle is used.
Oil change on the 1.6 16V 105 petrol engine is every 30,000km/two years in the majority of markets.
In order to underline its high build quality, Dacia Duster is backed up by a three-year or 100,000km warranty in the majority of European markets.
At the end of 2012, Duster will mark the brand's launch into the UK market,