The Nissan Pickup wins the 2003 Morocco Rally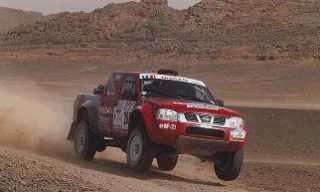 11 June 2003

Nissan has won the 2003 Morocco Rally. Piloted by Gineiel de Villiers, with co-driver Tina Thorner, this was the first overall win for the Nissan Pickup in the World Cup for Cross-Country Rallys, and also the first overall victory for Nissan since 1993.
Smiling on the podium, Giniel de Villiers was finally able to show his joy: "First and foremost, I would like to thank everyone in the team for their work. It was really perfect. The car has not had any problems, and I know that everyone worked really hard to help us achieve this result. The rally was very difficult, and definitely not a picnic. It was important to stay concentrated at all times. The special stages in the dunes were very tricky, as were the narrow roads in the mountains. This morning, I could not help thinking about what happened to Peterhansel during the last three events, but I put that out of my mind, to stay focussed. Before the start, my main aim was to be at the finish, and if possible on the podium. But I don't believe in predictions in rally raids. Anything can happen at any moment. I had a very good feeling with the car throughout the rally. The first stage win gave me a certain confidence. Since the Dakar, I have wanted to win a stage, now I have done that, and I've even won the whole event …"
Tina Thorner's eyes were also shining. There was plenty of emotion for Giniel's co-driver, claiming her first win: "When we started this morning, I tried to remain as focussed as possible. I tried to treat this stage as if it was a 'normal' day. The special stage was quite tricky, but we were extra careful. The rally has gone remarkably well with Giniel. He drove perfectly. I could feel he was very much at ease, motivated and very concentrated. I am very happy with this win, my first… .. I don't think I have really quite realised what has happened yet. I hope there will be more …They always say that the first win is the most difficult … well, we've done it ! "
In the T1 category, Marc Blazquez, with three stage wins, also appeared satisfied with his result: "I thoroughly enjoyed this rally, but I also learnt a lot, especially in the dunes. The car was entered in the T1 category, so it was almost a production vehicle, and it was not always easy to adapt. The team did a good job, and I know that we can progress in this category. My aim was to finish. The Patrol crossed the line in third place in the T1 class … it's perfect. This is only my second rally raid, but I must admit that I really like it. I still have to work and learn, but I am really very happy … and I can't wait to get started again…"
Thierry Delli Zotti shared the Patrol with Marc and gave his opinion of his pupil: "Marc did a good job, he listens to the advice he is given, he learns quickly but he is also very fast. Moreover, he is a charming boy. I really enjoyed driving with him. I am very pleased about Giniel's win – it is a great boost for the whole team, and is an apt reward for all the hard work…"
This opinion is also shared by Alec Poole, the Nissan Rally Raid Team Manager: "We are very happy today, happy for Giniel, of course, but most of all, happy to have proved that the Nissan Pickup is competitive. Since the launch of the programme, just over six months ago, all the team has been fully committed to this project. This win in Morocco is a fine reward for all the hard work. But we know that there is a long way to go before reaching our goal: to be able to win the Dakar… We are learning important lessons on each rally raid, and this first position confirms that we are on the right track."
With the Team Dessoude Nissan Pickup, Yves Loubet and Jacky Dubois claimed a fine 4th place in the overall classification. The Corsican driver had a final scare this morning: "During the special stage, there was suddenly a tremendous noise... I looked at Jacky, very worried, but it turned out that it was only the rear mudguard which had come off and which was rubbing along the ground. I really wanted to finish the rally … but all's well that ends well…"
Paul Belmondo and Alain Guéhennec, with their Nissan Pathfinder, came very close to winning the T1 category today, with victory remaining possible until the very last moment. With Jean Pierre Strugo having problems during today's final stage, they gained over 10 minutes, which, unfortunately, was not enough to change the classification. Paul finished 2nd in the class and 10th overall: "The main aim was to finish the rally. We came really close to a win in T1, which is a shame… I hope to be in Dubai, must most importantly to be in the next Dakar … with a Nissan, of course…"
Plenty of emotion in Marrakech, for the Nissan Rally Raid Team… the next event will be the Spanish Baja, from 17 to 20 July.
• Overall Classification after the OUIRGANE – MARRAKECH stage
| | | | |
| --- | --- | --- | --- |
| Pos. | Team | Make | Time |
| 1 | DE VILLIERS G.-THORNER T. | NISSAN PICKUP | 15:38.062 |
| 2 | SOUSA C.-MAGNE H. | MITSUBISHI STRAKAR 1 | 6:20.54 |
| 3 | SERVIA J.M.-BORSOTTO F | SCHLESSER FORD 1 | 6:55.04 |
| 4 | LOUBET Y.-DUBOIS J. | NISSAN PICKUP 1 | 7:09.45 |
| 5 | KOMORNICKI L.-MARTON R. | MITSUBISHI PAJERO | 17:18.16 |
| 6 | MAGNALDI T.-OLIVIER A. | PRO-TRUCK | 18:09.37 |
| 7 | MONTERDE J.L.-TORNABELL R. | MITSUBISHI PAJERO | 19:08.05 |
| 8 | GUINOT J.F.-KROISS M. | MITSUBISHI CHALL. | 19:25.59 |
| 9 | STRUGO J.P.-LARROQUE P. | MERCEDES ML430 | 20:10.07 |
| 10 | BELMONDO P.-GUEHENNEC A. | NISSAN PATHFINDER | 20:22.36 |
| 11 | KIS S.-CZEGLEDI P. HON | NISSAN NAVARA | 20:47.08 |
| 12 | PATISSIER I.-IRISSOU B. | VW MAXIBEETLE | 21:02.38 |
| 13 | BLAZQUEZ M.-DELLI ZOTTI T. | NISSAN PATROL | 21:04.06 |
| 14 | CONREAU J.-VINEL E. | NISSAN PATROL | 22:26.52 |
| 22 | BARNINI S.-PELANCONI G. ITA | NISSAN PATROL | 28:53.58 |
| 27 | VANDROMME P.-DEBRON A. | NISSAN PATHFINDER | 34:06.10 |