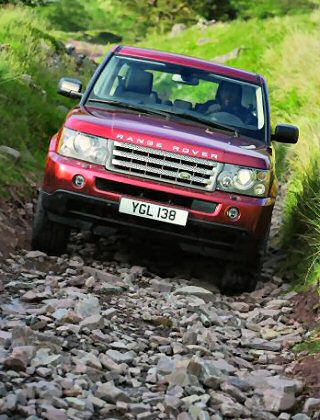 22 August 2006
Powerful, state-of-the-art TDV8 turbo diesel – new, fourth engine option for Range Rover Sport
Power and torque over 40 per cent greater than TDV6 turbocharged diesel engine, but still achieving 25.5 mpg (11.1 litre/100 km) on combined fuel cycle
Class-leading refinement helps emphasise V8 acoustics
Ride, handling and brakes on a par with Range Rover
The introduction of a powerful and brand new TDV8 as a fourth engine option, completes the launch phase of the Range Rover Sport. Since its debut in 2005, Land Rover's most performance-oriented vehicle yet – dubbed a 'sports tourer' by the company – has been consistently in high demand, leading to waiting lists in many markets.
With its combination of exhilarating performance and fuel economy of 25.5 mpg (11.1 litre/100 km) on combined fuel cycle, the new TDV8 is expected to extend the Range Rover Sport's appeal still further.
"The new TDV8 engine is a tremendous achievement, with performance, outstanding refinement and exceptional efficiency. It extends choice still further for our customers, and we expect it to help maintain the vehicle's outstanding sales success," says Land Rover managing director, Phil Popham.
The TDV8 engine has been designed specifically to power the Range Rover and Range Rover Sport, ensuring no compromise to its off-road credentials, and it was first seen earlier this year in the Range Rover. For Range Rover Sport, the engine calibration, installation and applications have been developed to deliver a more sporting driving experience to suit the vehicle.
The introduction of the TDV8 engine at 2007 model year is accompanied by detailed specification upgrades and improvements across the Range Rover Sport line-up. The existing three engine options continue to be available – TDV6, V8 petrol and V8 supercharged.
STRONG AND EFFICIENT NEW TDV8
Complementing the Range Rover Sport's existing TDV6 engine, Land Rover's state-of-the-art TDV8 engine is lightweight, strong and fuel efficient. Designed from the outset to accommodate Land Rover's uncompromising off-road demands, the engine has been developed to provide huge reserves of torque across the rev range.
Peak power from the TDV8 engine is an impressive 272 PS (200 kW), 42 per cent higher than the existing V6 diesel. The new vehicle reaches 60 mph in 8.6 seconds (100 km/h in 9.2 seconds), while top speed is electronically limited to 130 mph (209 km/h). The TDV8's torque curve is impressively flat. Peak torque – an enormous 640 Nm (45 per cent higher than the TDV6) – is available continuously from just 2000 rpm to 2500 rpm. With more than 500 Nm of torque available from less than 1500 rpm to over 3700 rpm, it's no surprise that in-gear performance is where the TDV8 really excels. In CommandShift™ manual transmission mode, the new derivative takes only 6.8 seconds to accelerate from 50 to 70 mph in fifth gear. Yet, despite such performance, the TDV8 delivers 25.5 mpg (11.1 litres/100 km) over the combined cycle.
Each cylinder bank is fed by a dedicated variable-geometry turbocharger via separate, high-capacity intercoolers to help achieve the engine's impressive throttle responses. Twin fuel-coolers help reduce temperatures in the engine's high-pressure fuel circuit, where the camshaft-driven fuel pump supplies the piezoelectric injectors with diesel fuel at pressures of up to 1700 bar. A sophisticated intake port deactivation system helps optimise combustion chamber swirl for even greater efficiency and cleaner combustion.
Land Rover's patented turbo oil-scavenging system works in conjunction with specially developed sealing and intake systems to help ensure that the engine can withstand the vehicle's 700 mm wading capability and rigorous off-road operating-angle requirements.
REFINED CHARACTER
A key objective for the TDV8 engine was refinement. Superb combustion control, exceptionally stiff engine structure and tuned acoustic covers for both the engine and fuel-injection system all help make the TDV8 one of the world's quietest large diesels.
Even at idle, vibrations are on a par with those of many V8 petrol engines thanks to electronically controlled, switchable-rate hydraulic engine mounts. Very low levels of base-engine noise have allowed Land Rover engineers to tune the exhaust system to emphasise the TDV8's naturally sporting burble; the result is a uniquely appealing soundtrack for a big diesel.
ACCLAIMED DRIVELINE TECHNOLOGY The TDV8 engine is mated to Range Rover Sport's sophisticated full-time 4x4 driveline. Electronic control continuously adapts the change characteristics of the ZF six-speed automatic transmission to the prevailing driving style. In addition, the CommandShift mode also provides manual gearchange when required, providing even greater driver involvement.
Land Rover's Positive Torque system is standard on all TDV8 derivatives, providing faster downshifts by automatically blipping the throttle to match engine and road-speeds. When not locked, the four-wheel-drive system's electronic centre differential continuously adjusts the front-to-rear torque split to help optimise traction, whatever the surface. The two-speed shift-on-the-fly transfer box incorporates a low-range reduction gear, designed to help achieve Range Rover Sport's class-leading standards of off-road gradeability and control.
EXTRAORDINARY COMPOSURE, AGILITY AND BALANCE
TDV8 derivatives share the acclaimed independent, double wishbone airsprung suspension system of other Range Rover Sport models and are available with either 19" alloy wheels with 255/50 tyres or 20" alloys with 275/40 tyres. As Range Rover Sport's chassis was designed from the outset to accommodate the TDV8 engine, it's no surprise that the new derivative's on-road agility and balance match the remarkable standards set by its V8 supercharged sibling.
And like the V8 supercharged derivative, Range Rover Sport's highly effective Dynamic Response system is standard equipment on the TDV8. The system's electronically controlled hydraulic actuators continually adjust Range Rover Sport's roll stiffness in response to cornering forces, providing outstanding body control without the ride penalties associated with conventional roll bars.
The TDV8 shares its braking system with the Range Rover Sport Supercharged too, with four-piston Brembo front brake callipers and 360 mm front discs helping to achieve consistently excellent stopping power.
UNRIVALLED BREADTH OF CAPABILITY
In addition to the TDV8's impressive on-road behaviour, its off-road performance is class-leading. Land Rover's patented Terrain Response™ system, standard on Range Rover Sport, has been specifically tuned for the TDV8. The way the vehicle's engine and chassis systems should react for optimum control on surfaces such as snow or grass is very different from the way they should react when – for example – crawling over rocky ground. Selecting the appropriate Terrain Response setting adjusts the responses of features from suspension ride height and axle articulation to gearchange and traction-control maps. This helps optimise the vehicle's behaviour to suit the prevailing ground, leaving the driver free to concentrate on the route ahead. Terrain Response's five settings cover 'general driving', 'grass, gravel, snow', 'mud and ruts', 'sand' and 'rock crawl' conditions, a range that underpins Range Rover Sport's exceptional breadth of capability.
Dynamic Response also helps Range Rover Sport perform better off-road. While conventional roll bars are great for roll control on smooth tarmac, they work by increasing the force needed to move individual wheels up and down, potentially a real disadvantage off-road. Dynamic Response automatically reduces roll stiffness when driving off-road to improve the suppleness with which individual wheels can move, making progress over rough ground even easier. In conjunction with electronic cross-linking of the vehicle's air suspension units, this allows Range Rover Sport to achieve excellent cross-axle articulation, helping to keep all wheels on the ground when negotiating challenging off-road obstacles.
FEATURE REFINEMENTS The TDV8's bright, Titan-finish grille and side vents are performance cues shared with the V8 supercharged derivative. Stunning new 18" and 19" lightweight alloy wheels are available on both the TDV6 and V8 naturally aspirated petrol derivatives, saving around 10 kg per vehicle.
Detail improvements abound within the cabin too. The optional new hybrid TV unit not only offers better analogue TV reception, it's capable of processing digital TV signals too. This helps future-proof against the planned migration to digital- only TV signals in many countries. An attractive metallic finish is now applied to several controls to improve tactility, while crisp, clearer instrument graphics and an additional instrument pack clock make life easier for the driver. Other enhancements to specific derivatives include stowage pouches on leather driver seats, enhanced navigation functionality, lane-change indicator functionality (providing a three-flash lane-change signal in response to a single touch), an electric tailgate latch (for automatic closing once lowered) and the optional availability of Land Rover's fully electronic Tyre Pressure Monitoring System (which keeps an accurate watch on temperature-corrected tyre pressure within each road wheel).
In the words of chief programme engineer Stuart Frith: "The TDV8 engine is the company's fastest diesel to date and marries Range Rover Sport's unique blend of dynamic handling and off-road ability with an unprecedented combination of powerful performance and diesel efficiency."
All photographs and engineering data in this press pack are from pre-production prototype work. The specification, design and production of any vehicle shown is subject to alteration without notice. Some images feature optional accessories.