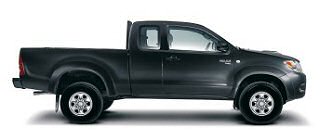 12 October 2006

Extra Cab model added to new Hilux range
Equipped with more powerful, Euro IV-compliant 2.5-litre D-4D 120 engine
n sale from 1 November, basic price £14,195
Revised 2.5-litre D-4D 120 (Single and Double Cab) and new 3.0-litre D-4D 170 (Double Cab) engines available from 16 January 2007
Prices announced for 2007 model year
These days the onset of autumn is defined as much by the start of another season of The X Factor on television as by the prevalence of any mists or feelings of mellow fruitfulness. This year Toyota is following the popular trend by presenting a new star model of its own for the nation to enjoy, but without the chore of having to phone in any votes.
The new arrival is the Extra Cab, which completes the line-up of Toyota's new generation Hilux pick-up range alongside the Single and Double Cab models. Extra Cab, offered exclusively with four-wheel drive, becomes the first Hilux to adopt Toyota's new 2.5-litre D-4D 120 engine. This unit gives more power and torque and is cleaner than the previous Hilux engine and will be available, together with a new, high-power 3.0-litre D-4D 170, in high grade Double Cab versions in the New Year.
EXTRA CAB, EXTRA APPEAL
The Extra Cab focuses firmly on practicality and is aimed principally at the business user who needs the flexibility of additional passenger space with maximum load area. It's a two-door model, but features two occasional rear seats, equipped with three point seatbelts. These are incorporated into the design allowing a rear deck length of 1805mm compared to a Double Cab with 1520mm. It benefits from the same bold and stylish design of its Single and Double Cab stablemates and adopts the new-look bonnet with intercooler bulge that forms part of the Hilux range enhancements for the 2007 model year.
A single version is offered, in HL2 specification with four-wheel drive. Standard features include air conditioning, electric windows, remote central locking ABS and driver and passenger front airbags, demonstrating Toyota's commitment to offering both tough performance for work and high levels of comfort, convenience and safety.
The new generation Hilux achieves significant improvements in noise, vibration and harshness (NVH) performance and better handling thanks to its new double wishbone front suspension, improved aerodynamics and ladder frame construction that is 45 per cent stiffer.
On sale date for the new Extra Cab is 1 November, with a basic price of £14,195 (full range prices and Extra Cab technical specifications are given below).
NEW D-4D ENGINES
The new 2.5-litre D-4D 120 engine which makes its debut in the new Hilux Extra Cab will also be available in Single and Double Cab models from 16 January next year. At the same time, a new 3.0-litre D-4D 170 engine will be available in the higher grade Double Cabs.
The D-4D 120 delivers all-round improvements, with eight per cent more power and 25 per cent more torque than the engine it replaces: maximum power is 118bhp (120 DIN hp) and maximum torque is 325Nm. The D-4D 170 will increase Hilux's appeal across both work and leisure markets, offering high power (169bhp/171 DIN hp) and high torque (between 1400-3400 rpm) ensuring responsive and refined acceleration in all gears whatever the cargo. There are two transmission options of five-speed manual or four-speed automatic, the auto versions coming with cruise control as standard. Emissions from both new engines comply with Euro IV standards.
TOYOTA HILUX PRICES
| | | | | |
| --- | --- | --- | --- | --- |
| MODEL | TYPE | ENGINE | BASIC PRICE | CVOTR PRICE* |
| HL2 4x2 | Single Cab | D-4D 120 | £11,495 | £12,170 |
| HL2 4x4 | Single Cab | D-4D 120 | £13,595 | £14,270 |
| HL2 4x4 | Extra Cab | D-4D 120 | £14,195 | £14,870 |
| HL2 4x4 | Double Cab | D-4D 120 | £14,895 | £15,570 |
| HL3 4x4 | Double Cab | D-4D 120 | £15,595 | £16,270 |
| HL3 4x4 | Double Cab | D-4D 170 | £16,195 | £16,870 |
| Invincible 4x4 | Double Cab | D-4D 170 | £18,195 | £18,870 |
* CVOTR – commercial vehicle on-the-road, including delivery charge, 12 months' road fund licence of £170, number plates and first registration fee, but excluding VAT.
Automatic transmission with cruise control is optional on D-4D 170 models, at £1,100 excluding VAT.
TOYOTA HILUX EXTRA CAB TECHNICAL SPECIFICATIONS
ENGINE

Engine code

2KD-FTV

Type

4 cylinders in-line

Capacity (cc)

2,494

Valve mechanism

DOHC 16-valve

Bore x stroke (mm)

92.0 x 93.8

Compression ratio

17.4:1

Fuel type

48 cetane diesel

Max. power (bhp/DIN hp @ rpm)

118/120 @ 3,600

Max. torque (Nm @ rpm)

325 @ 2,000

TRANSMISSION

Type

4x4

Clutch type

Dry, single plate

Gearbox type

5-speed manual

Gear ratios

1st

4.313

2nd

2.330

3rd

1.436

4th

1.000

5th

0.838

Reverse

4.220

Differential gear ratio (front/rear)

3.909/3.909

BRAKES

Front (diameter/width mm)

Ventilated discs 255 x 25

Rear (diameter mm)

Drums 295

Additional features

ABS, Load Sensing Proportioning and Bypass Valve (LSP&BV)

STEERING

Type

Rack and pinion

Ratio

19.4:1

Turns lock-to-lock

3.72

Min. turning radius – tyre (m)

6.2

Additional features

Hydraulic power steering

DIMENSIONS

Overall length (mm)

5,255

Overall width (mm)

1,760

Overall height (mm)

1,795

Wheelbase (mm)

3,085

Front tread (mm)

1,540

Rear tread (mm)

1,540

Front overhang (mm)

885

Rear overhang (mm)

1,285

Interior length (mm)

1,840

Interior width (mm)

1,475

Interior height (mm)

1,190

Rear load height (mm)

855

Deck height (mm)

450

Deck length (mm)

1,805

Deck width (mm)

1,515

Deck volume (m3)

1.178

WEIGHTS

Kerb weight (kg)

1,830

Gross vehicle weight (kg)

2,875

Towing capacity – braked (kg)

2,250

Towing capacity – unbraked (kg)

750

Maximum payload (kg)

1,045

PERFORMANCE

Max speed (mph)

96

Acceleration 0-62mph (sec)

15.0

Fuel consumption – combined (mpg)

34.0

CO2

219
Back to News Index
10 October 2006

New Club Cab model introduced
Versatile tipper added to range
4x4 Commercial Vehicle Week to take place at all UK dealerships 4-12 November
This month (October) sees Mitsubishi's award-winning and market-leading range of L200 pick-ups extended to include two important new variants in the shape of the Club Cab and the Single Cab Tipper. With four body-styles launched and a wide range of specifications available to suit all business needs, Mitsubishi now boasts the most comprehensive range of pick-ups on the market.
To promote this fact, every Mitsubishi dealership in the UK will take part in a dedicated 4x4 commercial vehicle week between the dates of 4-12 November. During this week dealers will display a range of commercial vehicles on their forecourts and will have a whole host of contract hire and finance deals on offer to customers.
L200 Club Cab
The Club Cab is the latest addition to Mitsubishi's already extensive line-up of L200 pick-ups. Initially launched in March 2006, the new L200 featured single and double cab versions and, with the introduction of the Club Cab, the options and versatility of the L200 range increases yet again.
The Club Cab's two-door with rear bench seat configuration provides the flexibility of either being able to carry four adults or providing additional space for secure stowage of tools and equipment. It also boasts a load bed 1.8 m long – 48 cm longer than that of the double cab. These features, combined with the L200's car-like ride, handling and manoeuvrability, make it a perfect choice as a day-to-day working partner.
Available in 4Work, 4Life and Warrior variations, all Club Cabs feature a 2.5-litre turbo-diesel engine and come with easy-select four-wheel-drive plus rear diff-lock across the range, ensuring they're competent performers, whatever the road surface.
Whilst the 4Work Club Cab includes EBS with EBD, driver and passenger airbags and even a CD player with MP3 player facility, the 4Life sees the addition of air-conditioning, electric front windows and central locking.
In keeping with other Mitsubishis that carry the Warrior identity, the top of the range Club Cab features everything the 4Life offers, as well as leather seats, 16" alloy wheels, front fog lamps and rear stainless steel bar with step. It's also fitted with a host of external styling additions, which means it looks as purposeful as it performs.
Prices start at £12,797 CVOTR (£15,010.58 OTR) for the 4Work, £14,179 CVOTR (£16,655.58 OTR) for the 4Life and rise to £16,249 CVOTR (£19,066.68 OTR) for the Warrior.
L200 Tipper
A major addition to Mitsubishi's already extensive range of L200 pick-ups is the brand new tipper-bodied model. Available from this month it's destined to be a hit with the business and fleet markets, with over 70 orders already placed – even before it's officially launched.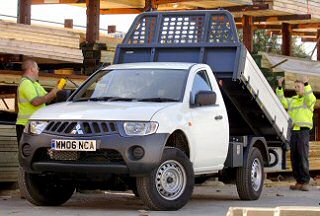 The L200 Tipper has been created in conjunction with one of the UK's most respected conversion companies, Southampton-based VFS. Using a standard L200 Single Cab as their starting point, VFS's expert engineers remove the flatbed and replace it with their own high quality version
The combination of the L200's driver-friendly cockpit together with the practicality of a flat-bed tipper at the rear creates a vehicle which is as competent on the road as it is on a construction site. Added to this is the real benefit of its easy-select four-wheel-drive system, enabling access and driving safety when the going gets tough. This outstanding on/off road performance coupled with its 903 kg payload carrying and off-loading capabilities make the new L200 tipper a consummate work-horse, with attributes that suit a host of industrial applications.
The powder-coated steel tipper deck is powered by a chrome-plated, electro-hydraulic under-floor ram, which is activated by hand-held controls connected by a 'wander' lead. The flat 2405 x 1650 cm tipper bed is supported by a powder-coated sub-frame and surrounded by aluminium side and tail boards with six load-lashing points. The conversion also includes thermoplastic mudguards and a tubular rear-cab protector with infill panels and ladder stops, plus locking toolboxes located either side of the sub-frame.
Initially offered in two versions, 4Work and 4Life, both are fitted with the 2.5 litre 134bhp turbo-charged engine which powers other models in the L200 range. A drop-side version is also being considered for a later launch.
The 4Work tipper goes on sale at £17,147 CVOTR, with the 4Life priced at £18,397 CVOTR and features the addition of air conditioning, electric windows, central locking and a number of other trim modifications. Both models are available in three colours: black (pearlescent), white (solid) and silver (metallic).
L200 Elegance gets the 'bling' treatment. Due to the L200's status as the ultimate business/leisure crossover vehicle, demand for the high-specification models continues to increase. Underlining this, feedback has shown that customers purchasing the top-of-the-range Elegance models have requested more of the external accessories, as can be found on the Warrior and Animal variants.
The Elegance was originally created to appeal to more traditional SUV purchasers who require an equipment-packed interior but prefer a more low-key exterior style. However, customer demand has shown that there are a growing number of people who want to drive away in the 'ultimate' L200 i.e. with maximum interior and exterior equipment and accessories. To cater for this, Mitsubishi has now introduced an upgrade pack for the Elegance which includes a front guard, lower sports grille, rear stainless steel bar with step and chrome accessories – door handles, fuel filler cap, headlamp bezels and rear lamp guards. Also included is the Rallitronic power upgrade, which increases engine output from x134 to 165 bhp @ 3800 rpm and torque from 231 to 348 lb.ft @ 2000 rpm. The complete upgrade pack is available for £2,000 - fully fitted.
The L200 is still king of the pick-up segment taking 37% overall market share and a massive 52% of the retail sector. Sales so far this year (September YTD) total 11,983 units a 22% increase on 2005 within a growing sector which has increased by 17% over last year.
Back to News Index
Gaydon, Warwickshire, 9 October 2006
The world's most complete luxury 4x4 just got smarter, with the 2007 model year Range Rover TDV8, on sale this week, pioneering an innovative world-first technical solution – the petrol fuel guard system. The petrol fuel guard system helps prevent drivers filling their diesel vehicle with petrol – an increasingly common error in this age of the ultra-refined diesel engine. Land Rover's innovative new system is incorporated into the vehicle's diesel filler head and automatically activates the intervention of a mechanical shutter if a petrol nozzle is inserted, preventing petrol being dispensed into the diesel tank. The system distinguishes between petrol and diesel nozzles because thinner unleaded petrol dispensers go deeper down the neck of the vehicle's fuel tank, activating the shutter.
Chief programme engineer for the 2007 model year Range Rover, Paul Walker, says: "The new TDV8 engine in the Range Rover is so powerful and refined we feel that there is a danger, more so with this vehicle than with any we have sold in the past, of the driver mistaking the vehicle for a petrol-powered derivative – especially if the driver isn't the vehicle's regular user. Mis-fuelling is an expensive and complex problem to fix, and we are delighted to be first to the market with this innovative solution." The AA reports that in 2005, over 100,000 cases of mis-fuelling were reported, with diesel vehicles being filled with petrol in error. The associated costs are significant, often amounting to several thousand pounds if the incorrect fuel enters the engine upon starting the vehicle.
The Range Rover for 2007 comes with a host of other significant enhancements, on both the TDV8 diesel and V8 petrol derivatives, including the all-new V8 diesel engine, revised cabin design and new technologies including Terrain Response and the fuel protection system as standard. It is on sale now with prices ranging from £53,995 to £74,795.
Back to News Index
Gaydon, Warwickshire, 3 October 2006
The 2007 model year Range Rover Sport will start from £35,665 for the entry-level, 2.7-litre TDV6 S, and will be available from 1 November at Land Rover dealerships throughout the UK. Following its world debut at the Paris Motor Show last month, the 2007 model year sees the introduction of a powerful, state-of-the-art TDV8 diesel fourth engine to the Range Rover Sport, with prices for this derivative starting at £53,120 for the HSE specification when it goes on sale in January 2007.
The TDV8 Range Rover Sport offers power and torque over 40% greater than the TDV6 turbocharged diesel engine, and achieves 25.5mpg (combined cycle) while class-leading refinement helps emphasise the V8 acoustics. Prices rise to £63,225 for the petrol V8 Supercharged Range Rover Sport HST.
The complete Range Rover Sport 2007 model year prices and specifications are as follows:
| | | |
| --- | --- | --- |
| TRIM LEVEL | HEADLINE EQUIPMENT AS STANDARD | PRICE |
| TDV6 S | Electronic Air Suspension with Terrain Response, Automatic Climate Control, Cruise Control, Halogen Headlamps, Puddle and Footwell lamps, Fabric interior, Illuminated vanity mirrors, Perimetric and Volumetric Alarm Systems, Speed Adaptive Automatic Gearbox, 17" Alloy Wheels and Goodyear Tyres | £35,665 |
| TDV6 SE | As TDV6 S plus: Rear Park Control, Bi-Xenon Headlights, Leather interior, Powerfold Exterior Mirrors, 18" 10 Spoke Alloy Wheels and Pirelli Tyres | £40,665 |
| | | |
| --- | --- | --- |
| TDV6 HSE | As TDV6 SE plus: Dynamic Respose, Brembo Front Brakes, Lower Centre Console Cooler Box, Front and Rear Parking Distance Control, Premium Navigation System, Personal Telephone Integration System,  Premium Leather, 18" Alloy Wheels and Metallic Paint | £47,265 |
| TDV8 HSE | As TDV6 HSE plus: Adaptive Cruise Control with Forward Alert, Premium Navigation System, Personal Telephone Integration System, Voice recognition and Driver Microphone, Electronic Front Seats, Illuminated vanity mirrors, Powerfold Exterior Mirrors, Perimetric and Volumetric Alarm Systems, Speed Adaptive Automatic Gearbox, up to 19" alloy wheels and metallic paint  | £53,120 |
| TDV8 HST | As above plus: Electric Sunroof, Hand-polished Lined Oak Interior, Sports Leather, Active Rear E Differential transmission, 20" 'Stormer' Alloy Wheels | £59,020 |
| Petrol V8 HSE | As TDV8 HSE plus: Bi-Xenon Headlights, Pirelli tyres (with 18" & 19" Alloy Wheels and full sized spare wheel) | £54,500 |
| Petrol V8 Supercharged HSE | As TDV8 HSE plus: Sports Leather | £57,325 |
| V8 Supercharged HST | As TDV8 HST | £63,225 |
Back to News Index
---
To contact Nigel webmaster@4x4web.co.uk
Hungerford, Berks.
Nigel D Leak t/a Multiplex. VAT No. GB 642 3964 29
23 Feb NL