26 May 2006

The Range Rover gains a powerful, refined, all-new TDV8 diesel engine for 2007 model year
Cuts 0-60 mph (and 0-100 km/h) by over four seconds, but has the same fuel economy as the outgoing diesel (25.1 mpg combined average)
Added technologies include Land Rover's acclaimed Terrain Response, electronic park brake and electronic rear 'e' differential
Improved cabin gains extra stowage, enhanced finishes and more effective air-conditioning – plus the option of cooled front seats
The Range Rover gets an all-new V8 diesel engine and a series of other significant enhancements for the 2007 model year. These latest improvements to Land Rover's flagship include a revised cabin design and a host of technical upgrades, such as Land Rover's patented Terrain Response system, which extends even further the vehicle's impressive breadth of capability.
The technologically sophisticated, turbocharged 272 bhp/PS (200 kW) TDV8 diesel makes its debut in the Range Rover, and is one of the world's most advanced engines. Like all Land Rover engines, it is lightweight, compact and extremely strong. Compared with the six-cylinder diesel it replaces, it is 54 per cent more powerful, delivers 64 per cent more torque, and yet has the same fuel economy. "The TDV8 diesel is a great new engine, to power one of the world's great vehicles – the most complete luxury 4x4," says Land Rover managing director Phil Popham. "Its balance of performance, refinement and economy is unmatched. We believe it makes the Range Rover an even more desirable vehicle, especially in strong diesel markets, and will appeal to many customers who've never considered a diesel before.
"Performance is similar to many more obviously sporty vehicles and fuel economy is comparable with a lot of petrol saloon cars. Yet the new Range Rover delivers so much more – great comfort, huge carrying capacity, awesome off-road capability and massive towing ability, all with exemplary refinement." Acceleration is significantly improved, compared with the previous diesel engine: over four seconds has been cut from the 0-60 mph and 0-100 km/h times (now 8.5 sec and 9.2 sec respectively). Maximum speed is raised to 124 mph (200 km/h), electronically limited. In addition, the TDV8 is up to 75 per cent quieter overall, more refined, and has improved brakes and handling. The new engine is matched to the six-speed, state-of-the-art ZF 'intelligent shift' automatic transmission, already used on petrol Range Rover models. The suspension set-up is similar to that of the Range Rover Supercharged, delivering outstanding handling and ride comfort. Large Brembo front brakes are standard.
The two petrol engine options for the Range Rover introduced last year to wide acclaim – a 396 bhp/PS (291 kW) supercharged V8 and a normally aspirated 306 bhp/PS (225 kW) V8 – continue for 2007 model year.
The Range Rover's outstanding off-road capability is enhanced by the addition of Terrain Response as standard for all 2007 models, together with a centre 'e' (electronic) differential and the availability of a rear 'e' differential. Terrain Response allows the driver to select one of five settings on the rotary switch, to suit the terrain. The vehicle's electronic and mechanical controls are then optimised to tackle the specific conditions. "Terrain Response improves absolute off-road ability while reducing driver effort: off-road performance has never been easier," says Phil Popham. "It benefits on-road driving too, and perfectly exemplifies Land Rover's belief in offering the greatest breadth of capability in the class."
Other enhancements apply across the Range Rover line-up for the 2007 model year. The cabin gains better stowage space (including a new twin glovebox), an enhanced airbag package, a cleaner centre console design, an electronic parking brake, a new upper facia and substantially improved air-conditioning and ventilation. Switchgear and the audio system have been improved, and there are more extensive wood and metallic finishes, all contributing to an enhanced premium feel. Front seats now offer an optional cooling function, as well as a standard heating feature, and active head restraints contribute to improved safety.
"The most complete luxury 4x4 in the world is now even better," says Phil Popham. "The outstanding supercharged V8 and normally aspirated petrol V8 are joined by an equally impressive new diesel V8. It is an unbeatable engine range, reinforcing the Range Rover's unassailable position at the very pinnacle of the luxury 4x4 sector."
ALL-NEW TDV8 DIESEL ENGINE BOOSTS PERFORMANCE & IMPROVES REFINEMENT
The Range Rover's new TDV8 diesel engine builds on learning from the widely acclaimed TDV6, used in the Discovery 3 and Range Rover Sport. Delivering substantial improvements in both performance and refinement, its maximum power is increased by more than 50 per cent, at 272 bhp/PS (200 kW), compared with the outgoing straight-six diesel's 177 bhp/PS (130 kW). Maximum torque is an enormous 640 Nm (472 lb ft). This is maintained constantly from 2000 rpm to 2500 rpm, delivering effortless performance even at low engine speeds. Over 400 Nm of torque is available from just 1250 rpm – greater than the previous engine's maximum torque of 390 Nm (288 lb ft).
Acceleration is similarly transformed, with the 0-60 mph time down to 8.5 sec from 12.7 sec (0-100 km/h now 9.2 sec, from 13.6 sec). The improvements continue right across the speed range. In the crucial 50-70 mph acceleration range (80-110 km/h), for example, the new diesel model is about 40 per cent faster. Top speed is an electronically limited 124 mph (200 km/h), up from 111 mph (179 km/h). Twin variable nozzle turbochargers contribute to the huge torque of the V8 diesel, as does the relatively low 17.3:1 compression ratio. The 32-valve engine configuration allows for smooth high-revving, assisting performance and on-road refinement.
The engine exceeds EU4 emissions standards and fuel consumption is impressively low considering the performance: combined average fuel economy is 25.1 mpg (11.3 litres/100 km). This is comparable to that of many petrol saloon cars, in a vehicle that has the capability to cruise motorways, climb mountains, cross rivers, carry five adults in ultimate comfort plus an enormous amount of luggage, and has one of the highest permissible towing weights of any vehicle. Although sharing many technologies with the TDV6, the 3.6-litre TDV8 has been designed from the outset to meet the refinement, torque characteristics and off-road needs of the Range Rover. It is not just a V6 with two extra cylinders. For example, the V6 has a bank angle of 60 degrees, while the V8 has 90 degrees – the best configuration for a V8's balance and refinement.
As with the TDV6, the TDV8 uses a revolutionary Compacted Graphite Iron (CGI) block, which has much higher tensile strength than 'standard grey' cast iron, better fatigue strength than aluminium, and extraordinary stiffness. Its overall advantages in weight and strength mean the block can be lighter and smaller than those of rivals, making it astonishingly compact for such a large-capacity engine. The block's outstanding stiffness is a major factor in the refinement of the engine. The TDV8 is one of the world's quietest and smoothest diesels, as well as one of the mightiest. Heads are cast in aluminium. The overhead camshafts – two per cylinder bank – are hollow to reduce weight, and actuate the 32 valves through roller-finger followers and hydraulic lash adjusters. The intake camshaft is driven by a simplex bush chain, the exhaust camshaft by near-silent gearwheels. The intake manifold – made from lightweight injection moulding – and cylinder heads employ Land Rover's intake port deactivation technology, to optimise swirl across the full engine speed range.
The new TDV8 is designed not just for day-to-day road driving and high-speed motorway or autobahn cruising, but also for river wading, dust, mud and the steep angles necessary for class-leading off-road capability. As with all Land Rover products, the new Range Rover TDV8 must be able to drive through 45-degree gradients and traverse 35-degree side slopes, as well as wade through water 500 mm deep.
The 90-degree V8 configuration means the twin turbochargers are sited low in the engine. At extreme angles, there is a risk that either turbo may be below the sump level, restricting oil flow. So a new, patent pending, vacuum lubrication system has been developed to ensure full flow of oil at all times to the critical turbochargers, even on the most severe side slopes. No other turbo V8 has anything like the all-terrain versatility of the Range Rover's new engine. The variable nozzle turbochargers – one per cylinder bank – have small turbine wheels, for excellent response. Their variable nozzle design boosts not only response, but also low-end torque and top-end power. No wastegate is necessary, improving refinement and boosting the progressive driving characteristics of the engine.
Common-rail injection technology improves refinement, power and economy. Fuel is injected at up to 1700 bar (more than 24,000 psi), about 30 per cent higher than in previous-generation common-rail fuel systems. Incredibly accurate Piezo injectors provide highly efficient combustion, very low particulate emissions and instant power on demand. They also reduce combustion noise, improving refinement. Despite the phenomenal performance, this is one of the world's quietest diesels. Noise, at both idle and full load, is extremely low. "Compared with the outgoing Range Rover diesel, the new engine is up to 75 per cent quieter, a huge improvement," says Al Kammerer, product development director for Land Rover. "In both qualitative and quantitative measures, the new diesel is very similar to the V8 petrol engine – a tremendous achievement." The noise levels are so low that Land Rover engineers had to target other sources of engine noise normally masked by combustion noise. Extraneous sounds are dampened by a comprehensive acoustic system, including a glass-reinforced nylon engine cover and sound-deadening rubber-mounted covers encapsulating the fuel injectors, to ensure that injection noise goes unnoticed.
Given the TDV8's exceptional standards of performance and refinement, it would be easy for people to mistake it for a petrol engine. So Land Rover has developed a new, patented device for the TDV8 fuel filler neck, to avoid the risk of inadvertent fuelling with petrol. The new TDV8 diesel engine is matched to the latest-generation ZF six-speed automatic electronically controlled transmission, which offers extra smoothness and response. The CommandShift facility allows for manual gearchanges, improving the dynamic nature of the driving experience when required. Low-range is also provided, for extreme off-roading and heavy-duty towing. Both the new gearbox and transfer box have a wider ratio spread than the outgoing units. Together, these provide for a 12 per cent lower first gear, giving better off-road control and power, while the top gear is now 28 per cent higher, to consolidate the benefits of the new engine's excellent refinement and economy.
This latest Land Rover diesel engine was developed specifically for Range Rover, jointly by Land Rover and Ford engineers. It is built at Ford Motor Company's high-tech diesel engine facility in Dagenham, England.
IMPROVED CABIN BOOSTS STOWAGE SPACE & PREMIUM QUALITY
All 2007 Range Rovers have revised cabins, to improve storage space and further increase the premium ambience. "Most of the changes are very practical, designed to enhance day-to-day living with the vehicle," says Land Rover's design director Geoff Upex, "with much improved stowage and better siting of controls. The vehicle is now equipped with twin gloveboxes and higher quality centre console storage and cupholders. The new electronic park brake and off-set gearchange are better oriented towards the driver. "The facia is all new – to meet the latest safety standards – so we've taken the opportunity to refine the highly regarded architectural design theme, increasing both luxury and craftsmanship. The new facia design also improves the renowned Range Rover 'command view' driving position."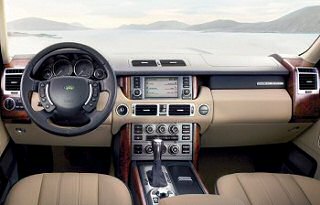 The smart new door casings feature more extensive use of wood. Instruments have new graphics and the bezels now have a richer alloy finish. The centre console switchgear has been redesigned to improve both functionality and its tactile appeal. The front seats are new too, and now offer the option of a cooling function, as well as the standard heating feature. For an even quieter interior, the Range Rover now gains acoustic laminated windscreen glass, reducing transmitted exterior noise by up to 6 dB.
An enhanced airbag strategy relocates the side airbags, formerly in the doors, to the seats, to improve cushioning in the event of a side impact. A driver's side inflatable knee bolster is also added to all models, and the passenger front airbag has been redesigned.
The air-conditioning system has been comprehensively revised, to offer improved cooling, better airflow distribution, lower noise and greater comfort levels. The new 9 kW evaporator (replacing a 7.8 kW version) enables 15 per cent more heat to be removed from the cabin. In addition, new centre top vents help improve ventilation for front-seat occupants, and lead to a significant reduction in airflow noise at high fan speeds.
TERRAIN RESPONSE & 'E' DIFFERENTIALS BOOST OFF-ROAD PROWESS
Technical upgrades for the Range Rover at 2007 model year include the addition of Terrain Response, Land Rover's patented technology to make off-road driving easier. Terrain Response allows the driver to choose one of five terrain settings via a rotary control, located on the newly redesigned centre console of the Range Rover.
Terrain Response then implements the most appropriate settings for the vehicle's many advanced electronic controls and traction aids, including ride height, engine torque response, Hill Descent Control, electronic traction control and transmission settings. The five Terrain Response programmes optimise the vehicle set-up for virtually any on-road or off-road driving conditions:
General driving
Grass/gravel/snow (for slippery conditions on-road as well as off)
Sand
Mud and ruts
Rock crawl
The rear 'e' (for electronic) differential is also new for the 2007 model year. It is standard on the Range Rover Supercharged, and available as an option on both the diesel and the normally aspirated petrol engine. It improves on-road handling and off-road dexterity. All models have a centre 'e' differential.
Suspension settings and brakes have been upgraded for the TDV8. Competition-bred Brembo front brakes are standard, identical to the high-performance ones used on the latest Range Rover Supercharged. Revised spring and damper rates have been selected, to replicate the same ride and handling characteristics as on the supercharged model. 19-inch wheels are standard on the TDV8, with a 20-inch wheel and tyre option also available. An electronic park brake replaces the space-consuming conventional hand brake lever in the centre console area. It is engaged by a simple pull of a switch. It is disengaged automatically when the vehicle moves off, or can be released manually.
THE RANGE ROVER: THE WORLD'S MOST COMPLETE LUXURY 4x4
The original Range Rover was the world's first luxury 4x4 when it was launched in 1970. There have been three new distinct versions, with the most recent model unveiled in 2002. Since the release of the latest version, sales of Range Rovers have been running at record levels. The 2007 model year upgrades come on top of a number of major improvements for the 2006 model year, when two new petrol engines were introduced. Both give better performance and greater fuel economy than the single V8 they replaced. The flagship model uses a 396 bhp/PS (291 kW) 4.2-litre supercharged V8, which is 35 per cent more powerful than the previous engine, has over 25 per cent more torque – which contributes to refinement and ease of driving – and is about 1.5 seconds quicker from 0-62 mph (100 km/h). The other V8 is the normally aspirated 306 bhp/PS (225 kW) 4.4-litre engine, also quicker, more refined and more economical than the previous engine.
For the Range Rover, these two Jaguar-derived engines were specially developed to offer more torque at lower revs. For tough off-roading, the engines can operate at more extreme angles and have enhanced protection from dust and rocks. They are also better water-proofed for Land Rover's tough wading requirements. "Supreme breadth of capability is a hallmark of the Range Rover," says Land Rover managing director Phil Popham. "It inspires a sense of confidence no matter what the conditions. The latest Range Rover offers effortless performance, irrespective of terrain, and has better on-road performance than ever before, both in handling and straight-line speed.
"The new TDV8 model has the finest blend of performance and economy ever offered on a Land Rover vehicle. It is faster, quieter and more refined than any diesel engine in our history, and is exactly the right powerplant to underline the Range Rover's reputation as the world's most complete luxury 4x4."
TECHNICAL SPECIFICATIONS
FEATURE

TDV8

(DIESEL)

V8 NORMALLY ASPIRATED

(PETROL)

V8 SUPERCHARGED

(PETROL)

ENGINE

Layout / no. of cylinders / valves

Longitudinal / V8 / 32

Longitudinal / V8 / 32

Longitudinal / V8 / 32

Effective displacement

cc/cu. inch

3630 / 222

4394 / 268.1

4197 / 256.1

Bore / stroke

mm

inch

81.0 / 88.0

3.19 / 3.465

88.0 / 90.3

3.465 / 3.555

86.0 / 90.3

3.386 / 3.555

Compression ratio

17.3 : 1

10.5 : 1

9.1 : 1

Max. power output (EEC)

kW

200

225

291

Max. power output

bhp/PS

272

306

396

Engine speed at max power

rpm

4000

5750

5750

Max. torque (EEC)

Nm

640

440

560

Max. torque

lb ft

472

325

420

FLUID CAPACITIES

Fuel tank capacity

litres

UK gallons

US gallons

104.5

23

27.6

104.5

23

27.6

104.5

23

27.6

POWERTRAIN

Four-wheel drive system

type

Perm 4WD high/low range, air suspension, Hill Descent

Control (HDC), ABS, Terrain Response (TR), traction

control and Dynamic

Stability Control (DSC)

Perm 4WD high/low range,

air suspension, Hill Descent

Control (HDC), ABS, Terrain

Response (TR), traction

control and Dynamic

Stability Control (DSC)

Perm 4WD high/low range,

air suspension, Hill Descent

Control (HDC), ABS, Terrain

Response (TR), traction

control and Dynamic

Stability Control (DSC)

Transfer box ratio

: 1

High range: 1; low range: 2.93

High range: 1; low range: 2.93

High range: 1; low range: 2.93
FEATURE

TDV8

(DIESEL)

V8 NORMALLY ASPIRATED

(PETROL)

V8 SUPERCHARGED

(PETROL)

POWERTRAIN contd…

Overall gearing

1st (high)

: 1

14.765

15.558

15.558

2nd (high)

: 1

8.284

8.728

8.728

3rd (high)

: 1

5.384

5.673

5.673

4th (high)

: 1

4.046

4.263

4.263

5th (high)

: 1

3.069

3.234

3.234

6th (high)

: 1

2.446

2.577

2.577

Reverse (high)

: 1

12.047

12.693

12.693

PERFORMANCE

Acceleration 0-60 mph

sec

8.5

8.3

7.1

Acceleration 0-100 km/h

sec

9.2

8.7

7.5

Top speed

mph (km/h)

124 (200)

124 (200)

130 (210)

BODY DIMENSIONS

No. of seats

5

5

5

Length (inc. number plate plinth)

mm / inch

4972 / 195.7

4972 / 195.7

4972 / 195.7

Width excluding mirrors (including mirrors)

mm / inch

1956 / 77.0 (2192 / 86.3)

1956 / 77.0 (2192 / 86.3)

1956 / 77.0 (2192 / 86.3)

Width with mirrors folded

mm / inch

2034 / 80.1

2034 / 80.1

2034 / 80.1

Max height sunroof open

mm / inch

1905 / 75.0

1905 / 75.0

1905 / 75.0

Max height with roof antennae

mm / inch

1902 / 74.9

1902 / 74.9

1902 / 74.9

Wheelbase

mm / inch

2880 / 113.3

2880 / 113.3

2880 / 113.3

Track front (rear) at ground level

mm / inch

1629.4 (1625.3) / 64.1 (64.0)

1629.4 (1625.3) / 64.1 (64.0)

1629.4 (1625.3) / 64.1 (64.0)

Wading depth

mm / inch

500 / 19.7

500 / 19.7

500 / 19.7

Turning circle lock to lock

no. of turns

3.46

3.46

3.46
TECHNICAL SPECIFICATIONS contd…
FEATURE

TDV8

(DIESEL)

V8 NORMALLY ASPIRATED

(PETROL)

V8 SUPERCHARGED

(PETROL)

BODY DIMENSIONS contd…

Turning circle kerb to kerb

m / feet

11.6 / 38.1

11.6 / 38.1

12.0 / 39.4

Approach angle

deg

29 (std ride height)

34 (offroad height)

29 (std ride height)

34 (offroad height)

29 (std ride height)

34 (offroad height)

Departure angle (full-size spare option)

deg

24.2 (std ride height)

26.6 (offroad height)

24.2 (std ride height)

26.6 (offroad height)

24.2 (std ride height)

26.6 (offroad height)

Departure angle with towbar

deg

13.6 (std ride height)

16.0 (offroad height)

13.6 (std ride height)

16.0 (offroad height)

13.6 (std ride height)

16.0 (offroad height)

Ramp breakover angle

deg

25 (std ride height)

30 (offroad height)

25 (std ride height)

30 (offroad height)

25 (std ride height)

30 (offroad height)

Drag coefficient

Cd

0.39

0.39

0.39

VEHICLE WEIGHTS/TOWING

Mass of vehicle unladen – EEC Kerb

kg

2710 min

2592 min

2680 min

(inc. fluids, tools, spare wheel & 75kg driver)

lb

6003 min

5717 min

5935 min

Technically permissible maximum

laden mass (GVW)

kg / lb

3200 / 7055

3100 / 6834

3100 / 6834

Technically permissible max. towable mass

kg / lb

3500 / 7716

3500 / 7716

3500 / 7716

Maximum mass of unbraked trailer

kg / lb

750 / 1653

750 / 1653

750 / 1653

INTERIOR DIMENSIONS

Loadspace volume maximum

behind row 1

litres/cu.feet

2091 / 73.8

2091 / 73.8

2091 / 73.8