NEW RENAULT KANGOO TREKKA 4X4 - MORE SUV THAN EVER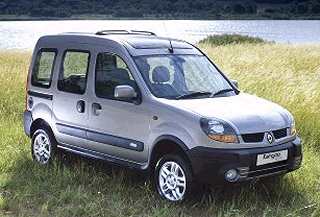 3 Oct 2003

New Renault Kangoo Trekka 4X4 on sale now
Only purpose built small car with permanent four-wheel-drive fitted as standard
Available with 95 bhp 1.6 16v and 85 bhp 1.9 dCi engines
Low 5E insurance group
Improved interior comfort and stowage solutions including aircraft style overhead lockers
From £11,800 on the road
Renault has launched a new version of its Kangoo Trekka 4X4, which is the only small car with permanent four-wheel-drive fitted as standard.
The Kangoo Trekka 4X4 embodies the perfect combination of a fun, versatile and affordable mode of transport for a whole host of diverse customers who want some degree of off-road ability. Already a 'stand out' design on today's roads, the new Kangoo Trekka 4X4 benefits from the changes introduced to Kangoo two wheel drive earlier this year with a more modern exterior design boosting its Sports Utility Vehicle (SUV) character, plus a new front grille. It also benefits from the improved travelling comfort features and has five full size seats and a large luggage compartment. Sticking to the spirit of its concept, the new Kangoo Trekka remains a fun, practical and versatile 4X4 which is also economical to run.
New Trekka Features
The new Kangoo Trekka takes on the lines of the front-drive Kangoo, including a plunging bonnet with a rib, redesigned wings and new front grille with horizontal slats. The smooth-surfaced headlamp housings enclose orange-coloured front indicators. Special headlamp units with a black surround also give the vehicle a more sporting appeal.
The bumpers are also new. The front bumper includes strengthened protective overriders and front foglamps surrounded by new grey metal trims. The SUV character of the Kangoo Trekka is emphasised by side mouldings, as well as by wheel arch mouldings and sill trims. All these protective features, as well as the bumpers, can be body-coloured.
In addition to the 10 colours already available, two new colours make an appearance: Nordic Green and Topaz Grey, which are exclusive to Trekka.
Inside, the seats have been improved to provide better sideways support and increased comfort thanks to more curved foam mouldings. New materials are used to trim the seat cushion and backrest, including the upper rear panel. The high-range version is trimmed with a special "Treck" material whose original design is based on road surface tyre-prints.
The half leather trim option provides an unequalled and high-value equipment level in this segment, and comprises special part leather/cloth upholstery, leather steering wheel, and leather gear lever knob and gaiter.
The Kangoo Trekka retains all the attributes of a functional and practical vehicle, with its five full-size seats, two sliding side doors, 110 litres of clever stowage space including overhead aviation compartments and big 550-litre luggage compartment, which with the rear seats folded, gives up to a massive 2,500 plenty of room for everything from bikes to lawnmowers!
Driving pleasure with permanent four-wheel-drive
Renault's new Kangoo Trekka retains its permanent four-wheel-drive transmission with adaptive hydraulic coupling, giving users the flexibility to go off road, coping with a variety of terrains from dirt tracks to light cross-country travel.
The adaptive hydraulic coupling optimises the transfer of torque to the wheels with the greatest grip without any action on the driver's part, according to three strategies which depend on the vehicle's speed, thus giving control of fuel consumption. In addition, an Automatic Brake Distribution (ABD) start-from-rest system operates electronically on the front wheels and reduces any loss of traction.
The ground clearance of the fully laden Kangoo Trekka is 180mm, allowing a remarkable degree of off-road operation for a 4X4. In addition, a shield beneath the engine compartment ensures effective protection of the engine and transmission and fuel tank.
Kangoo Trekka engine sizes
The new Kangoo Trekka offers two engines – one petrol and one diesel. The 1598cc 1.6 16V petrol engine develops a power output of 95bhp at 5,000rpm and a maximum torque of 148Nm at 3,750rpm, 90% of which is available between 2,500 and 5,500rpm. The 1.9 dCi turbodiesel engine gains 5bhp, over the previous Trekka seeing its power increase to 85bhp at 4,000rpm with the aid of new injection mapping. Pick-up from low speed also contributes to ease of driving and the maximum torque of 180Nm, achieved from 2,000rpm, is an indication of its flexibility. A slightly revised fifth gear ratio increases Trekka's maximum speed by 2.2mph to 91 mph.
Active or passive, safety remains a top priority
To promote complete peace of mind, the new Kangoo Trekka 4X4 is equipped as standard with ABS, complete with emergency brake assist (EBA). The scuttle area has also been optimised for better distribution of loads following an impact. Softer and more energy-absorbent padding within the doors provides more effective protection for the pelvis and abdomen in case of side impact.
Noise Reduction P>Internal acoustics have also been improved within the vehicle thanks to absorbent layers behind the dashboard and bulkhead, while thicker and heavier carpets reduce cabin noise. The engine mountings have been stiffened to reduce the transmission of noise and vibration into the cabin.
In addition, the 1.9 dCi engine in the Kangoo Trekka 4X4 is equipped with the new flexible flywheel which reduces engine noise and improves operating comfort. With the help of these new features, the Kangoo Trekka achieves an overall reduction in noise level of 3dB at 80mph.
Standard and optional features
The Renault Kangoo Trekka 4X4 shares the following core comfort, driving and versatility equipment as standard on the two-wheel-drive version:
Twin sliding side doors with opening window, tinted windows, power-assisted steering, three height adjustable rear headrests, 60:40 split/folding rear seat, map pocket on rear of passenger seat, rubber floor covering for boot, remote central locking, three-point rear seatbelts, driver's airbag and front passenger airbag, insurance-approved engine immobiliser, R.A.I.D. (Renault Anti Intruder Device) and height-adjustable front seatbelts with pretensioners
The following standard equipment specific to the Trekka 4X4:
15" Alloy wheels and ABS.
Options available on Kangoo Trekka 4X4 include:
Air conditioning and pollen filter, electric panoramic sunroof and fixed glass sunroof (not compatible with overhead parcel shelf), front lateral airbags, heat reflecting windscreen, insurance approved (Thatcham Category 1) alarm and baggage net.
On sale dates and prices
The Renault Kangoo Trekka 4X4 is on sale now. The petrol version is £11, 800 on-the-road and the diesel version is £12,800 on the road.