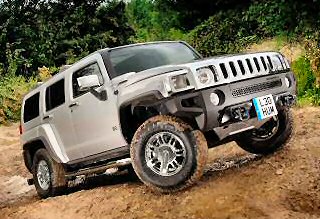 31 March 2008
ALL THE BRAND'S FEATURES IN A COMPACT FORM
Shorter, lower and narrower – the most urban-friendly HUMMER
Icon appearance embodies classic HUMMER design cues
Five-cylinder Vortec engine delivers 245 ps and 328 Nm of torque
Immensely capable and finely controllable 4x4 system
Luxurious interior seats five with up to 1597 litres of cargo space
Three models on sale in UK from £26,495 with right-hand drive
Building on the remarkable abilities and image of the HUMMER H1 and H2, the midsized H3 is the most accessible HUMMER ever. The H3 was designed in response to global demand for a luxurious, everyday vehicle that offered the legendary HUMMER design and unparalleled off-road performance in a more useable and urban-friendly form. Consequently H3 packs authentic HUMMER style and capability into more compact dimensions. Shorter, lower and narrower than the H2, the 2008 H3 is a similar length to a large family saloon and can comfortably navigate dense city traffic, yet still deliver HUMMER's trademark all-terrain crawling and climbing capability out of town.
Developed for markets around the world and built in South Africa, the 2008 HUMMER H3's iconic design continues to make it one of the most easily recognizable vehicles on the road. The signature seven-slot louvered front grille, flat windscreen and rectangular side windows, the profile's low glass-to-metal ratio, giant 32-inch outside diameter Goodyear Wrangler tyres and externally carried spare wheel – are all classic HUMMER design cues. H3 is the first HUMMER ever to offer the choice of a manual or automatic transmission. A smooth-shifting five-speed manual is standard, while GM's famed Hydra-Matic 4L60 electronically controlled four-speed automatic transmission is an option.
In the UK the 2008 HUMMER H3 is available as a three model range of right-hand drive vehicles, each with a choice of manual or automatic transmission. The H3 SE is priced from £26,495 (on-the-road), the H3 Luxury from £31,495 and the H3 Adventure from £30,495. A choice of nine exterior and five interior colours is offered. Although the H3 is less than 5-metres long (overall length is 4782 mm) its long wheelbase (2841 mm) and broad track (1645/1665 front/rear) place a wheel-at-each corner for maximum stability, on- and off-road. The H3's more compact size provides manoeuvrability advantages, such as an 11.3-metre turning circle.
The global version of the HUMMER H3 for all markets outside of North America is assembled at GM's state-of-the-art Struandale Assembly Facility in Port Elizabeth, South Africa. The facility benefited from a US$100-million refurbishment in 2006 and has been described as one of the most important milestones in the history of GM.
Designed with Iconic looks for Global Appeal
HUMMER design is certainly iconic and the H3's distinctive looks make it instantly recognisable as a HUMMER family member. Power and strength emanate from its chiselled surfaces, while its short overhangs, pronounced fender flares and huge 32-inch outside diameter tyres hint at outstanding off-road capability. Headlights have an oval design with a chrome surround. Clear lenses with amber bulbs, specially designed side blinker lamps and a unique tail lamp design were also adopted to meet international and UK lighting requirements. A headlamp levelling system is standard and a redesigned rear bumper with standard trailer hitch and enlarged step is combined with a new Rear Protection Under Run Device and rear fog lamps.
The large side-hinged tailgate has a fixed glass heated rear window, standard rear wiper and carries the full-size spare tyre. The spare has a lockable cover embossed with HUMMER. Other exterior design highlights are a protective aluminium front skid plate; hefty, stamped-steel front and rear bumper bars; a composite front fascia, with a 'HUMMER' logo moulded into the nearside, standard dual heavy duty front tow hooks, and a welded-on rear bumper recovery hook.
In the UK, the H3 is available in a choice of three solid and six metallic exterior colours: Black, Birch White and Victory Red (solid), plus Ocean Blue, Arctic Silver, River Rock, Torch, Sandstone and Lunar Gray (metallic).
Expressive, refined HUMMER-brand ambience
The interior design of the HUMMER H3 represents the start of an entirely new design theme for HUMMER. From the outset it was designed to be a vehicle for everyday driving and that focus strongly influenced the design, with comfort and intuitive function as key factors.
The H3's interior design is expressive, refined and true to the brand's ambience. The interior fittings have tight panel gaps and flush surfaces, and the tone is lightened with the use of bright trim accents and the use of colour.
Front and rear, there is generous head, leg and shoulder room. The perception of roominess within the vehicle is boosted by a headliner trimmed in a pale tight-weave fabric. The pillar mouldings are finished in the same colour to harmonise with the headliner. The large 916 x 624 mm powered sunroof offered on the H3 as an option can be opened, closed or set to the 'vent' (tilt) position.
The centre stack, which is a flush fit to the dashboard, is finished in a new material called Nissha. This material carries a metallic finish for a premium look, but is resistant to light reflection and smudges – for excellent wear. Nissha is also featured in the instrument cluster, which is positioned to ensure an optimal view of the road and maximum clarity for its easy-to-read liquid crystal displays. A driver information centre includes four levels of controls arranged horizontally for easy use.
The standard easy-opening, one-piece tailgate makes for convenient loading and unloading of the cargo area which measures 1273 mm wide x 811 mm long with the rear seats upright. In this mode, capacity is a generous 835 litres and folding down the 60/40 split rear seat expands cargo volume to 1597 litres. Tough, durable materials protect the cargo area sidewalls, while the floor is covered by a rubberised Tufflor material, which is superior to traditional carpets, mats or rubber floors in its resistance to scratches and damage.
H3 customers have a choice of five interior colour combinations – all Ebony and Ebony with Light Cashmere seat cushion inserts for the standard cloth seats. For the leather trim, the choice is all Ebony with Pewter piping, Ebony with Morocco-toned seat cushion inserts and piping, or light Cashmere with Ebony piping.
Power, torque and Maximum Drivability
The 2008 HUMMER H3 is powered by GM's inline five-cylinder Vortec 3.7-litre petrol engine. This all-aluminium 'smart engine' is both high-tech and lightweight and is fitted with dual overhead camshafts, electronic throttle control and variable valve timing. Specifically designed for this type of vehicle, it delivers 245 ps at 5600 rpm and 328 Nm of torque at 4600 rpm. For superb drivability both on- and off-road, 90% of the engine's torque is available across a broad rev-range, from 2000-to-6000 rpm.
The Vortec engine provides the H3 with excellent performance combined with good controllability for easy off-roading. On the road, the comfortable ride is matched to lively acceleration that equals the V8 powered H2 in most driving conditions. The Vortec engine's advanced technologies, including counter-rotating balance shafts, which help to minimize noise, vibration and harshness. Electronic Throttle Control (ETC) with Sequential Electronic Fuel Injection (SEFI) eliminate the throttle cable and provide outstanding throttle response both on- and off-road. Coil-on-Plug ignition does away with spark plug leads, delivers high energy and cuts exhaust emissions while stretching fuel economy – up to 20.4 mpg (combined cycle).
H3 was the first HUMMER to offer the choice of a manual or automatic transmission. In addition to the standard five-speed manual transmission, which is a fun option for the serious off-road performance enthusiast, offering the ultimate driver control, customers can opt for the Hydra-Matic 4L60-E electronically controlled four-speed automatic.
Immensely capable 4x4 Drivetrain
At the heart of the HUMMER H3's immense capability is an electronically controlled four-wheel-drive system with an advanced traction control system (TCS), an incredible 45.1:1 crawl ratio (as standard) and lockable front and (optional) rear differentials. The TCS ensures that even with three wheels spinning, the H3 can still move forwards, even up a 10% incline. The Borg-Warner two-speed electrically controlled transfer case has a robust 2.64:1 low-range gear reduction for highly controlled, off-road obstacle climbing. The Adventure model has as standard, an ultra-low 4.03:1 ratio for ultimate obstacle-climbing control. This is the most aggressive transfer ratio that GM has ever offered on a regular production vehicle.
The four-wheel drive system gives drivers a choice of four operating modes:
1. '4High-range Open' is used for optimum highway performance and comfort under normal every day road conditions.
2. '4High-range Locked' allows torque to be transferred to the front or rear wheels as needed.
3. '4Low-range Locked' is for severe off-road use, such as crawling over large rocks or logs, or deep sand or snow.
4. 'Neutral' is a setting used for flat-towing vehicle recovery, if required.
As an option (standard on Adventure), a fifth operating mode is available with electronic, driver-selectable full-locking rear differential. With the rear differential locked, and the optional 4.03:1 low-range transfer case gearing, the H3 is as capable of crawling and climbing as the legendary HUMMER H1 and H2. Standard fit on the Adventure model is a crawl ratio that is raised to 68.9:1 (manual transmission) and 56.2:1 (automatic) to give drivers a heightened level of control that makes the H3 one of GM's most capable off-road vehicles.
Robust chassis, delivers Smooth ride and Responsive handling
While functionality and off-road performance are key features of the HUMMER H3, it also provides a surprisingly smooth and comfortable ride on-road, along with responsive handling and braking control for everyday driving. Key features contributing to this rare combination of attributes include a fully welded ladder-type steel chassis frame, with a modular, three-piece design that incorporates fully boxed components for outstanding strength and torsional stiffness. Special high-strength steel is used to manufacture the side rails and cross members for extra durability and impact-resistance.
This frame is combined with an independent double-wishbone front suspension with torsion bars and, at the rear, a 'Hotchkiss' design multi-leaf, semi-elliptic, dual stage leaf spring suspension. Large diameter, 46 mm gas-filled shock absorbers are used all round, with 36 mm (front) and 25 mm (rear) anti-roll stabiliser bars. The two suspension systems, which are equipped with microcellular urethane bump-stops which act as secondary springs, provide both excellent on-highway comfort and outstanding off-road capability.
A highly sophisticated, power assisted rack-and-pinion steering system, with a three-bushing mount design and a 17.0:1 ratio, contributes to a manoeuvrable 11.3-metre kerb-to-kerb turning circle, similar to many D-segment cars. The H3 is equipped with four large disc brakes and an electro-hydraulic four-wheel ABS anti-lock system, plus a Dynamic Rear Proportioning valve, so that quick, controlled stopping power is assured. To protect the H3 chassis under the most arduous of off-road conditions, underbody protection incorporates four protective shields as standard. These include a front skid plate; a sump guard skid plate that also protects the front axle; a transfer case shield and a fuel tank shield.
Premium equipment for everyday Comfort and Convenience
In addition to its uncompromised off-road capabilities, the 2008 H3 also provides the refinement, comfort and convenience required for enjoyable everyday motoring. It presents an inviting and modern interior, blending premium cues with high-quality craftsmanship. Upscale touches include a chrome H3 emblem in the centre steering wheel boss, bright-accented instrument panel, chrome interior door release handles and a chrome bezel for the automatic transmission shifter.
The 2008 HUMMER H3 is equipped with a wide range of premium luxury fixtures and fittings. Standard equipment on the SE model includes: air-conditioning, cruise control, radio/CD player with six-speaker audio system, powered windows (front and rear), electric power-adjustable door mirrors, a 'electrochromic' inside rearview mirror with compass and outside temperature indicator, plus two covered 12-volt auxiliary power outlets – one in front, one in the cargo area and remote keyless entry with two transmitters and panic button.
Both the Luxury and Adventure versions H3 come with eight items of additional equipment that include: a Chrome Appearance Pack, leather seats and interior trim, heated eight-way powered front seats, and an AM/FM radio/single CD, with MP3 disc-playing capability and a premium seven-speaker Monsoon® sound system with subwoofer and amp. As standard, the H3 Luxury also features 16-inch chrome alloy wheels, chrome bonnet louvre, chrome roof cross-bars and chrome tubular assist steps – while the H3 Adventure has heavy-duty off-road suspension and a 4.03:1 transfer case and locking rear differential – instead of the Luxury's chromed additions. Among the premium options available are an in-dash 6-disc CD changer, a touch-screen DVD-based navigation system, a large electric express open/close sliding glass sunroof and numerous customised HUMMER accessories. These include roof marker lights, bright and black roof rack crossbars, a chrome–plated fuel filler flap in solid metal, an under-bonnet engine-bay liner with H3 logo moulded splash guards, a hard cargo carrier and roof or tailgate mounted carriers for bikes, skis, snowboards, or even canoes.
HUMMER high technology for off-road Supremacy
The 2008 H3 simply would not be a HUMMER if it didn't deliver a class-leading performance off road. The H3 is engineered for off-road leadership among midsize SUVs, with an electronically controlled four-wheel drive system, traction control, a (optional) locking rear differential and StabiliTrak stability control. The standard 265/75 R16 Goodyear Wrangler all-terrain tyres have a 32-inch external diameter. They are larger than those found on any other midsize SUV and provide optimum traction and an opportunity for increased approach, departure and breakover angles. Serious off-road performance is also aided by the 'wheel at each corner' nature of the design which results in a maximum approach and departure angles of 37.0 and 34.6 degrees, respectively. These angles permit the H3 to drive into a hole and back out again, without getting hung up in front or rear. The 219 mm ground clearance and maximum breakover angle of 23.5 degrees make it possible to clear large obstacles during off-road driving. Among its off-road credentials, the H3 can ford 407 mm of water at 20 mph or wade through 610 mm deep streams at a steady 5 mph pace. The HUMMER H3 is equally at home making its way through deep sand or racing over sandy surfaces, or climbing 407-mm vertical steps or rocks.
State-of-the-Art Safety Equipment
HUMMER owners value the inherent strength and feeling of security that their vehicles exude. The 2008 H3 fulfils that brand promise with a range of 'active' and 'passive' safety technologies, including a robust all-steel chassis frame, steel body panels and a reinforced passenger compartment safety cage, plus features such as TCS, StabiliTrak, curtain air bags and rollover protection. 'Active' technologies that enhance stability include a standard-fit traction control system (TCS), that uses a combination of engine throttle reduction and braking one or more wheels, to provide impressive traction capability even when three wheels are slipping.
GM's sophisticated StabiliTrak ESP-style electronic stability enhancement system is standard on the HUMMER H3. Partnered with the new ABS brake and TCS traction control systems, it applies individual brakes to correct understeer or oversteer during emergency manoeuvres and ensure stability and traction. StabiliTrak is always 'on' and its operation is fully automatic. In the H3, the transfer case's control algorithm has been integrated with both the StabiliTrak and ABS systems to provide enhanced vehicle stability by managing the front-to-rear, as well as the left-to-right torque distribution, as required, to achieve optimal control.
'Passive' protection for all occupants
The standard two front air-bags are advanced dual-stage bags, computer controlled to inflate to a greater or lesser extent – depending on the severity of the accident. In H3 these bags are also controlled by GM's Passenger Sensing System. This uses weight-sensing technology to turn the front passenger air bag 'on' or 'off' as appropriate. If the sensor system detects an unoccupied seat or the presence of a smaller occupant, the front passenger air bag is designed to automatically turn off so it would not deploy in the event of a frontal collision. In the event of a roll-over, the standard full-length curtain air bags drop down from the interior roof rail to the belt line and help provide head and upper torso protection for all occupants. The rollover protection sensing system also has a predictive ability, with motion monitors that can 'sense' an impending rollover and trigger the inflation of the side curtain air bags to increase occupant protection in the anticipated incident. Three-point seatbelts are provided in all five seating positions, along with the Child safety seat Lower Anchors and Tethers for Children (LATCH) system in the outer rear seats. Both front seatbelts feature pretensioners that help keep occupants in the optimum position to gain maximum benefit from the vehicle safety systems.