23 Aug 2004

New seven seater Pathfinder SUV unveiled for Europe
First showing of European-spec Murano cross-over powered by the 350Z's V6 engine
Dramatically revised Patrol 4x4
Latest X-TRAIL Fuel Cell Vehicle gets first European showing
Special version of the Navara in association with Hobie Cat, the leading manufacturer of catamaran sailing boats
At the 2004 Paris Motor Show, Nissan will be displaying many new and recently revised 4x4s which will underline the company's aggressive ambitions in Europe, as well as its desire to change consumers' perception of Nissan.
Incidentally, the Nissan press conference will take place at 1315 on 23 September. Nissan's stand will be located in Hall One where, in addition to the following vehicles, visitors can also get their first look at the European specification 350Z Roadster.
Pathfinder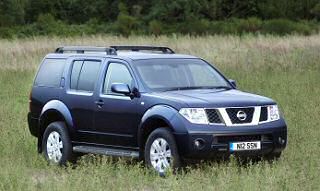 Due to go on sale in March 2005, the Pathfinder sports utility vehicle is a new addition to Nissan's growing four-wheel drive line up inspired by the Dunehawk concept car which was displayed at the Frankfurt Motor Show in 2003.
The interior provides three rows of seats, with the second and third rows folding flat to create a huge load area. Thanks to the versatility of the interior, a total of 64 different seating configurations is possible. Even with the third row of seats in place, there is class-leading luggage space. For added convenience, the rear glass hatch opens for easy access to the rear luggage area in tight spaces.
Power comes from Nissan's new highly efficient 2.5-litre 'YD' series four-cylinder turbo diesel engine. It features second-generation common rail technology for lower emissions and a new balancer system for greater refinement. It gives category-leading power and torque outputs which out-perform those of larger engines, while also providing outstanding economy figures.
Although a 4x4, the Pathfinder is equipped with independent double-wishbone suspension all-round which gives a car-like on-road dynamic performance. However, its advanced electronically controlled ALL MODE 4x4 transmission – an enhanced version of that which is fitted to the X-TRAIL – endows it with a high level of capability off-road.
The ALL-MODE transmission allows drivers to choose effortlessly between four different settings with the twist of a selector switch, giving the control of a serious 4x4, but without the need to operate a separate gear lever.
Equipment and technology levels are high. Nissan will offer a rear-view parking camera – as pioneered on Primera – and the Intelligent Key system which allows the doors to be unlocked and the engine started without having to insert the key into a lock.
Additionally xenon headlamps, a premium audio system, satellite navigation with Traffic Message Channel (TMC) and voice recognition, leather upholstery, dual zone climate control in the front and air conditioning in the rear are all available.
Murano
The European version of the Murano will be on display in Paris – its European debut. An eye-catching cross-over with the elevation of a 4x4, but the lines of a sports car, the Murano will provide comfort and performance for the discerning car-buyer.
Powered by an adapted version of the award-winning 3.5-litre VQ V6 engine found in the 350Z Coupe and Roadster, the Murano has proved to be a huge hit in North America where it has been on sale for more than a year.
More than 1,600 changes have been made to the US specification Murano to ensure it is ideally suited to the demanding European market.
Coupled to the engine is a unique offering in the Murano's segment of the market – a Continuously Variable Transmission which features a six speed manual mode. Power is transmitted to the road via Nissan's electronically controlled ALL MODE switchable 4x4 system.
There will be just one version of Murano on sale in Europe and the level of standard equipment is very high. All Muranos will feature satellite navigation with Traffic Message Channel (TMC) providing real-time traffic updates, a colour rear-view parking camera, a high-end Bose sound system, bi-xenon headlamps and leather interior.
The Murano will go on sale early in 2005 across Europe, while prices and specifications will be announced at the Paris Motor Show, when the order book will open.
Patrol
The iconic Patrol has just benefited from a wide range of improvements. With an extensive list of exterior modifications, as well as an upgraded interior, the Patrol continues to set the standard in the authentic 4x4 segment.
There's a bold new 'face', a new-look rear end and a new integrated side step, while revisions to the lusty 3.0-litre turbo diesel engine give more power and more torque. Additionally, the 'GR' moniker will be dropped from the name.
But perhaps the biggest changes can be found inside the vehicle. Although the Nissan Patrol remains a tough off-road vehicle at heart, Nissan believes there is no reason why users should not enjoy a little extra luxury while they work. As a result, the new Patrol has an all-new interior featuring better quality materials, greater comfort and more equipment.
X-TRAIL Fuel Cell Vehicle
Nissan is showing its 2003 Fuel Cell Vehicle which has significantly improved speed and range compared with the 2002 FCV which was shown at Frankfurt Motor Show in 2003.
Such is the progress that has been made with fuel cell technology, leasing of the 2003 FCV began in Japan earlier this year.
Pickup
Nissan has entered into a partnership with Hobie Cat, the leading manufacturer of catamaran sailing boats and in recognition a new Special Version of the Pickup model has been developed.
Reflecting the busy and active leisure-orientated lifestyles of sailors everywhere, the Pickup Hobie Cat has some special features which will enable it to support its owners in all of their activities, no matter how challenging.
The newly revised Primera, as well as the X-TRAIL will also be on display in Paris.