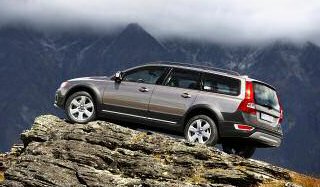 5 March 2007

Significantly enhanced levels of refinement and all road capability
Offers unparalleled levels of athleticism, versatility and safety in the premium estate class
Powered by a 185 PS D5 diesel and a 238 PS 3.2-litre petrol
Prices announced in early June, UK showrooms in September
Volvo's boldly styled and intelligently configured all new Volvo XC70 AWD (all-wheel drive) estate offers significantly improved levels of all-road-all-weather ability and an engaging driving experience combined with class-leading safety features, load-carrying versatility and refined passenger comfort.
Performance
The all new XC70 offers both performance and fuel economy with Volvo's naturally aspirated 3.2-litre straight six-cylinder petrol engine and its second generation 2.4-litre five-cylinder D5 turbo diesel engine. The D5 turbo diesel, with 185 PS and 400 Nm, packs a full technical punch and features double overhead camshafts, four valves per cylinder technology, an electronically controlled turbocharger, a maintenance-free particle filter, a more advanced multi-point injection system and an enhanced engine management system. It accelerates to 60 mph in 8.8 seconds (manual) and on to a 130 mph maximum speed. The D5 is available as a 6-speed manual gearbox or Volvo's six-speed Geartronic transmission, which gives the driver the choice of automatic or manual shifting.
Designed by Volvo in Sweden and built in Bridgend in Wales, the 3.2-litre naturally aspirated straight-six petrol engine is both powerful and amazingly compact, producing 238 PS and maximum torque of 320 Nm. The engine's aluminium block and head are structurally optimised to balance low weight and stiffness. There are twin overhead camshafts and 24-valves (four per cylinder) to provide optimal engine breathing. Engine breathing is further improved by Volvo's patented CPS (Cam Profile Switching) system that features two completely different intake cam profiles machined onto the same camshaft. Available with Geartronic transmission only, the 3.2-litre powers 0 to 60mph acceleration in 8.1 seconds and achieves a 134mph top speed.
Driving Dynamics
Underpinned by advanced new chassis architecture, the all new Volvo XC70 delivers an agile and rewarding driving experience that combines exceptional driver control, outstanding ride comfort and secure road holding. Extensive use of high-strength steels throughout the all new XC70 has boosted torsional rigidity by 15 percent compared to the previous model and particular focus on chassis technology, the suspension system and engine installation ensures that the XC70 delivers good stability and torsional rigidity. The all new XC70 is also fitted with Volvo's DSTC (dynamic stability and traction control), which enhances cornering stability and reduces the risk of a skid by utilising feedback from numerous dynamic sensors to reduce engine torque and apply carefully calculated braking. Four-C, Volvo's advanced active chassis technology with electronically controlled damper adjustment, is also available. "With an active chassis, the car's driving properties improve in all situations," says Volvo Cars XC70 Project Director, Tomas Ahlborg. "It becomes both safer and more entertaining to drive."
Cross Country Capability
All road ability is a key XC characteristic and, combined with a stiffer chassis, the all new XC70 is equipped to offer dramatically enhanced cross country capability. Volvo's engineers and designers paid particular attention to the all new XC70's ground clearance and wading depth as well as its ramp, approach and departure angles. With a ride height 74 mm (with 2 occupants) higher than the new Volvo V70 estate, the XC70 has an impressive wading depth of 300 mm and an effective ground clearance of 210 mm. Also, with ramp angles of 19.2° approach, 19.8° breakover and 24° departure, the new XC70 betters the outgoing model (16°, 18° and 20° respectively) in all three areas.
This ability to deal with adverse road conditions is enhanced by a hill descent control (HDC) system that regulates the vehicle's speed on steep downhill gradients in all conditions. The electronic one-touch system – standard on both manual and automatic gearboxes – utilises the brakes to modulate the amount of torque distributed to each, ensuring the Volvo maintains a steady 6 mph during its descent. Touching either brake or accelerator pedal will speed up or slow your descent speed in all conditions. Simply press the HDC button to regain full manual control. The HDC system also works in reverse which makes it ideal for tricky manoeuvres such as when launching a boat on a steep slipway.
The all new XC70 is also fitted with Volvo's responsive AWD with Instant Traction™ system, using an electronically controlled hydraulic clutch to instantly distribute torque to the wheels for the best possible grip in all conditions. Another feature that enhances the off-road experience is the speed-dependent power steering option which, as its name suggests, delivers more servo assistance at low speeds and less as speeds rise. Ideal for low-speed manoeuvres when tackling slippery surfaces, there are three levels of assistance available and they can be adjusted via Volvo's information and set-up system. To assist on tricky hill starts, the all new Volvo XC70 is fitted with an intelligent PPB (power parking brake) that automatically disengages when the accelerator is pressed and the car pulls away.
Sporty and luxurious
The car's enhanced dynamic ability is complemented by athletic new styling. Its eye-catching new sporty design, headlined by its raked windscreen and tailgate angles, blacked-out side pillars and C30-inspired taillights, are complemented by its tough and practical off-road body kit. Hard-wearing scratchproof protective cladding along the XC70's flanks and around the wheelarches is complemented by chunkier redesigned bumpers as well as tough chromed front and rear scuff plates that shield the XC70's nose and tail during more arduous off-road work. The all new XC70 models are also fitted with unique XC embossed roof rails as standard. These features, in combination with refined lines and contours, give the all new XC70 a more luxurious, elegant appearance. "The dark-coloured plastic panels at the bottom are less obvious than on the current model. But as with exclusive outdoor clothing, the protection is placed exactly where it needs to be to withstand the rough stuff," says Volvo Cars Design Director, Steve Mattin. The XC design continues inside with unique leather interior colours, bold cross stitching on the seats, cross-brushed aluminium trim and mesh pockets at the rear.
Estate versatility
The all new Volvo XC70 marries its contemporary Scandinavian style with intuitive functionality, comfort and refinement. The XC70's revised tailgate design is not only a striking design feature, but results in an even larger loading aperture than before, and the boot's size has grown by an effective 55 litres over the outgoing model, to a vast 575 litres. And the XC70's 40-20-40 three-part split rear seat and foldable front passenger seat means 16 different seating combinations for unrivalled versatility in the sector. The boot floor features adjustable load-securing anchorage points and aluminium rails to secure objects in transit, further helped by the integrated anchorage eyelets in the boot's side panels. Those XC70 drivers who regularly transport heavy or bulky goods can opt for the innovative sliding load floor and optional powered tailgate to boost ease of loading even further.
Boosting usable interior cabin space has resulted in a 48 mm increase in rear legroom and a 21 mm increase in rear knee clearance. Front passengers now enjoy 30 mm of additional shoulder room, while the overall distance between front and rear passengers has been extended by 21 mm. The spacious XC70 cabin is enhanced by its sleek and slim centre console, intelligently configured dashboard and ergonomically correct layout of its controls. The all new Volvo XC70 is equipped with a first class DSP (digital signal processing) audio system which features Dolby Pro Logic II Surround with adjustable sound pattern and the Premium Sound option offers loudspeakers from Danish audio experts Dynaudio. Integrated RSE system for rear passengers, the latest generation of RTI navigation system, MP3 player compatibility and optional subwoofers are also available.
Class-leading safety
As with all new Volvos, the XC70 is equipped with a raft of ground-breaking active and passive safety features to ensure that it's the safest car in its class. Highlights include improved crumple zones that use differing strength steels to absorb energy during an impact, the same advanced WHIPS (whiplash protection system) as that found in the new S80 and an energy absorbing nose and bonnet. Mindful of the XC70's higher ground clearance, Volvo has positioned a lower cross-member to supplement the front suspension frame at the height of a conventional car's bumper so that, in the event of a collision, it will strike the other car's protective structure and activate its crumple zone. Using higher-strength steels in the XC70's side panels significantly enhances the performance of the Volvo's SIPS side impact protection, as do its new dual compartment side-impact airbags, which feature two separate chambers for the hips and for the chest.
Volvo's innovative dual-stage integrated rear child booster seat tops the all new XC70's list of family-oriented safety features. With two heights, this optional adjustable booster cushion is ideal for children between 95 and 140 cm in height and weighing between 15 and 36 kg. Force limiters on the seatbelts have been adjusted to provide the right amount of tensioning force for children. A new extended IC (inflatable curtain) airbag, 60 mm longer, boosts child safety by providing superior protection for children of a wide range of heights and sizes.
The Volvo XC70 can also be equipped with a number of advanced electronic driving systems including Volvo's award-winning BLIS (blind spot information system), HBA (hydraulic brake assist), OHB (optimised hydraulic brakes), ACC (adaptive cruise control with collision warning and brake support), active bi-xenon headlamps, radar-controlled collision warning, emergency brake lights, all-round laminated glass and Volvo PCC (personal car communicator), which is used to lock and unlock the car as well informing the owner if the alarm has been triggered or, using a heartbeat monitor, to detect if someone is in the car.
Sales and introduction timings
Since the introduction of the PV445 in 1953, Volvo has dominated the premium estate market. The first XC model was launched in 1996, inventing the cross-over estate concept, and has attracted global sales of around 40,000 units each year. During its first full year of sales, Volvo expects to sell around 40,000 all new Volvo XC70 models worldwide, with the UK accounting for 2,500 XC70s – a sales figure that reinforces Volvo's position at the top of the premium estate sector. Prices of the all new XC70 will be announced in early June, with a September showroom due date and first customer deliveries in October this year. The current Volvo XC70 remains on sale until the autumn.