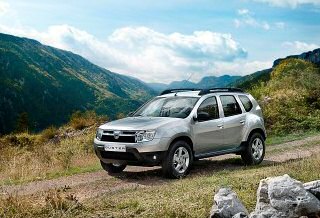 8 December 2009

Following the successive launches of Logan, Sandero and Logan MCV (seven-seat estate), plus Logan van and Logan pick-up, Dacia is now poised to tackle the 4x4 market with 'Duster', a tough, reliable, easy-to-use 4x4, aimed at motorists looking for an everyday car with real off-road ability.
Dacia Duster is economical both to buy and run:

economical to buy: an unbeatable performance/equipment/space package for its price.
economical to run: available with a choice of economical engines with low fuel consumption and CO2 emissions. The 4x2 diesel versions of Dacia Duster will emit less than 140g CO2/km, making them eligible for the Dacia eco² signature, while the 4x4 diesel versions will emit less than 150g CO2/km.

Dacia Duster is proof that it is possible to produce an all-terrain vehicle that is not only functional and affordable, but also respectful of the environment.
Dacia Duster is proof that it is possible to produce an all-terrain vehicle that is not only functional and affordable, but also Dacia Duster will be manufactured in 4x2 and 4x4 versions for the European, Turkish and Maghreb markets at the brand's Pitesti plant in Romania. Sales begin in Spring 2010.
Duster is a truly international vehicle, both in terms of its markets and production. It will gradually become available across the world, badged as either a Renault or a Dacia, following the example of Logan and Sandero.
THE GENESIS OF THE DUSTER PROJECT: A RESPONSE TO AN UNMET DEMAND
The Duster project was born out of the simple premise that a real need existed in the world for an affordable, comfortable and rugged 4x4, a class which is currently not well served. Aware of this gap, the Renault group decided to develop an all-terrain vehicle aimed initially at emerging markets. The needs of European customers were also taken into account from the project outset.
In emerging markets (Russia, Brazil, etc.), the middle classes aspire to owning a modern car that reflects their social status. At the same time, they want a strong car that is reliable, versatile and capable of standing up to climatic demands and conditions that can be both tough and varied (long distances, difficult terrain, use in large built-up areas). The current offer is largely dominated by imported SUVs, which are often priced beyond the means of these middle classes.
In Europe, Dacia's success has highlighted the demand for modern, reliable and affordable cars. Although the current range of 4x4s and SUVs is quite extensive, it neglects the call for a functional, affordable all-terrain vehicle, favouring instead SUVs that are expensive and often ill-suited to the needs of off-road driving.
DACIA DUSTER, EVERYTHING A 4x4 SHOULD BE
Indisputable 4x4 looks…
At first glance, Dacia Duster is clearly a 4x4. Its front end exudes a sense of ruggedness, with its imposing chrome grille and sump guard also pointing to its clear 4x4 credentials. Seen in profile, its high ground clearance, wide wheel arches and body protection are an open invitation to take on even the toughest surfaces.
Today's all-terrain vehicles are often synonymous with bulk, a preconception which Dacia Duster sweeps aside. Being 4.31 metres long and 1.82 metres wide, Dacia Duster is very compact, making it as at home in built-up areas as it is when taken off the beaten track. Although it clearly demonstrates that it belongs to the world of all-terrain motoring, Dacia Duster boasts attractive, yet not ostentatious lines.
…with genuine go-anywhere ability
Dacia Duster was designed to tackle all types of roads and tracks, all over the world. In order to meet these varied needs, it will be available in all markets in both 4x2 form (for customers looking for good ground clearance and a high driving position, without the need for four-wheel drive) and with 4x4 transmission for off-road driving.
Dacia Duster's strengthened undercarriage is suitable for dirt roads and all-terrain use thanks to its high ground clearance (more than 200mm) and impressive clearance angles (approach angle: 30 degrees; departure angle: more than 35 degrees).
Dacia Duster is easy to drive and not only aimed at all-terrain drivers. Its combination of its low unladen weight (1,180kg in 4x2 - 1,280kg in 4x4) and compact proportions, ensure particularly agile handling. In the 4x4 version, thanks to the unique and intuitive control (sourced from Nissan) located at the foot of the centre console, Dacia Duster drivers can easily adapt the vehicle's transmission configuration to meet their needs of the moment. This control allows one of three modes to be selected:
When the AUTO mode is selected, the front/rear torque split is calculated automatically as a function of available grip. This system is aimed at providing optimal traction, however much grip is available, and gives Dacia Duster genuine 4x4 ability. In normal conditions, the torque is transmitted through the front wheels only. If traction is lost, or when grip is at a premium, some of the torque is transferred to the rear axle. In extreme conditions, the torque is split equally front and rear. This split is performed by an electromagnetic torque converter supplied by Nissan.
In LOCK mode, the driver electronically locks it into 4x4 mode, whereby 50 per cent of torque is consistently fed through the rear axle. This mode is recommended in low grip conditions (snow, mud, dirt, sand) at low speeds.
In 4x2 mode, the transmission is locked into two-wheel drive. This mode is suited to driving on good roads and reduces fuel consumption.
A DACIA 4x4 WHICH DELIVERS ALL THE STRENGTHS EXPECTED OF THE BRAND
Duster, the sixth vehicle in the Dacia range, remains true to the brand's philosophy by offering unbeatable cabin space for its price, plus low running costs thanks to its thrifty fuel consumption, as well as a high level of safety and reliability whatever the conditions.
Unbeatable cabin space for its price
Although Dacia Duster's price is comparable with that of a city car, its exterior and interior dimensions are more akin to those of a compact car from the segment above. It comfortably seats up to five adults, with both front and rear occupants enjoying the same amount of space as passengers in its sister Logan model.
Dacia Duster's boot capacity is unbeatable, too, with a volume of up to 475dm3 ISO. With the rear benchseat folded and tipped forward, its impressive carrying ability can even exceed 1,600dm3 ISO.
Reliable engines with good fuel economy and low CO2 emissions
Both the 4x2 and 4x4 versions of Dacia Duster will be available with either a 1.6 16V 110hp petrol engine, or 85hp or 105hp dCi diesel power. All three powerplants have already demonstrated their efficiency under the bonnet of a number of Renault group models. These engines are perfectly suited to the criteria of cost, strength and ease of maintenance that are a hallmark of the Dacia range. Combined with Duster's low weight, they ensure that Dacia's newcomer returns low fuel consumption and boasts impressive ecological credentials, with the dCi diesel versions emitting less than 140g of CO2/km in 4x2 form (qualifying Duster for the Dacia eco² signature) and less than 150g of CO2/km in the case of the 4x4 versions.
Safety: an absolute priority
Dacia Duster benefits from Renault's acclaimed expertise in the area of safety. The news 4x4 features Bosch 8.1 ABS, as well as EBV electronic brakeforce distribution and emergency brake assist. On the passive safety front, Dacia Duster comes as standard with two front airbags (depending on market) and three-point seat belts with load limiters for the front seats. Depending on version, two lateral head/thorax airbags are fitted in addition to the driver and passenger front airbags to provide additional protection in the case of side impact. Pyrotechnic pretensioners for the front seats (depending on version) complete Dacia Duster's retention system. In addition to holding the thorax firmly in place, they limit forward body movement in the case of a frontal impact by tightening the belt around the thorax and the lap.
Reliability and strength: Dacia fundamentals
Like all the vehicles based on the B0/Logan platform, Dacia Duster has been engineered to deliver the hallmark strength and reliability motorists have come to expect of the brand. Particular attention has been paid to anti-corrosion protection thanks to several precautions:
wax-injected underbody and opening panel hollow sections,
mastic sealing of exterior joints,
additional wax treatment of underbody mechanical components,
stone-chip protection for underbody, sills and wheel arches.
Similar care has been paid to the electrics and electronics, with an installation already seen on several Renault models. To back up its high build quality, Dacia Duster comes with a three-year or 100,000km warranty in the majority of its European markets.